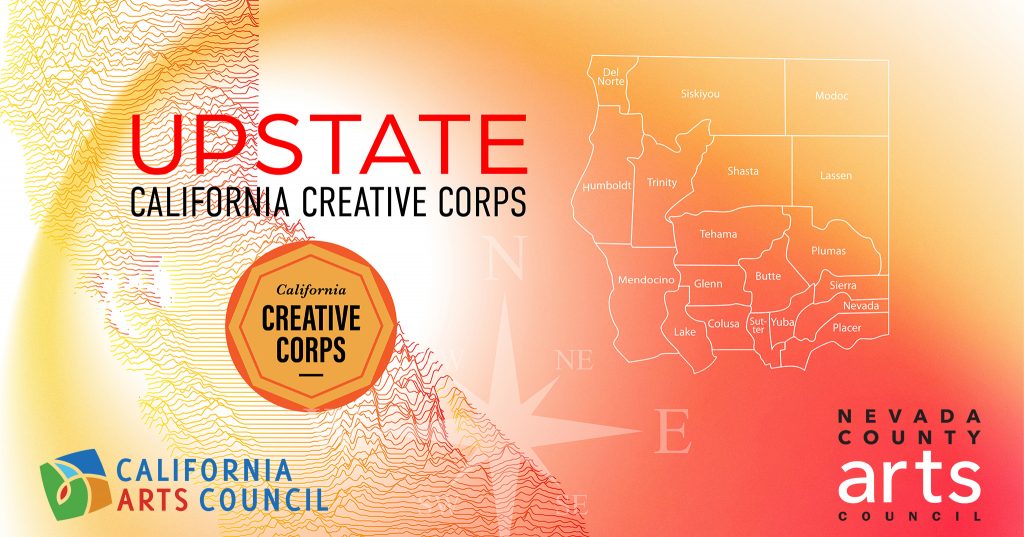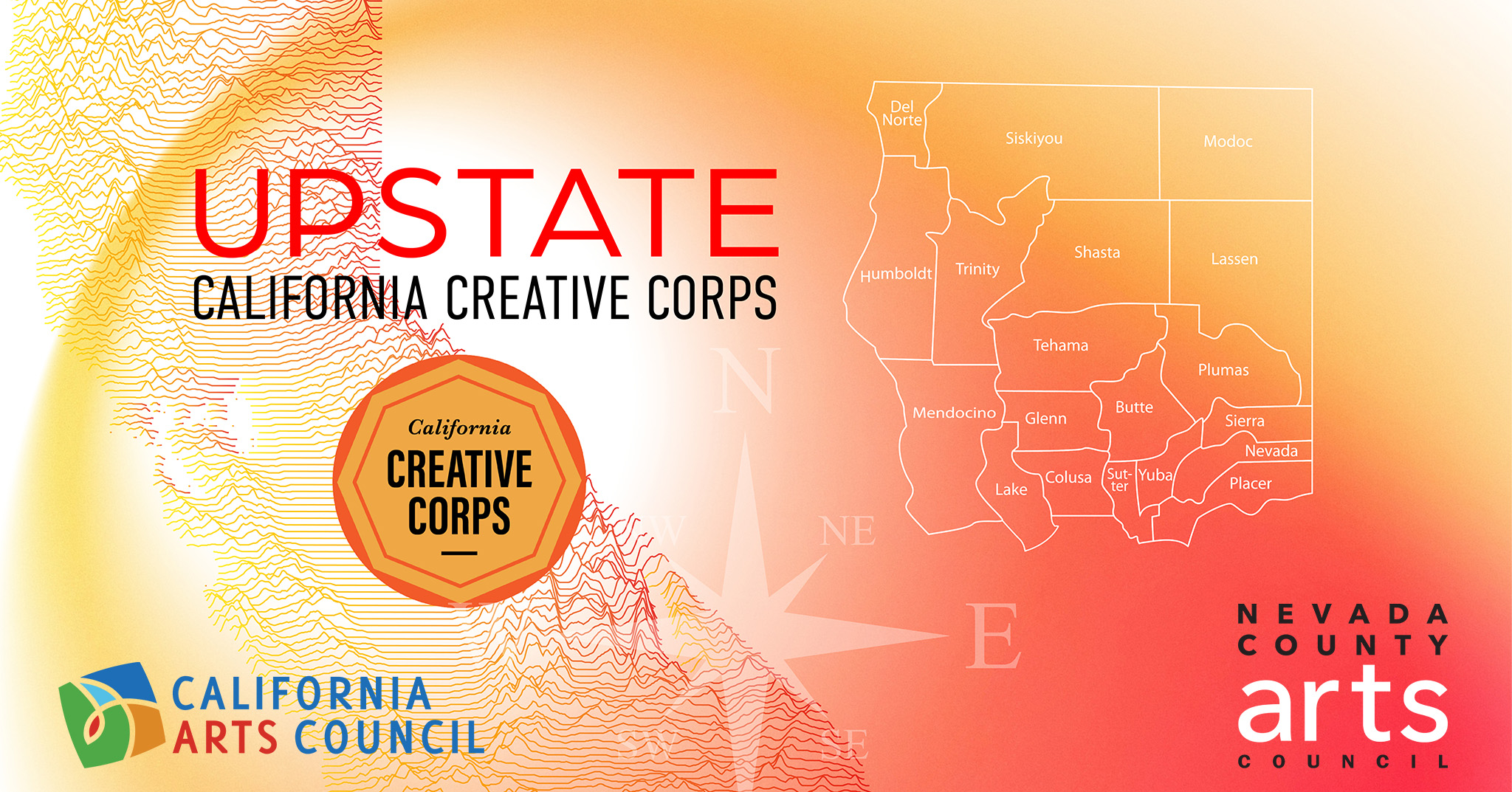 Inspired by the Federal Government's WPA response that put artists to work following the Great Depression a century ago, the California Arts Council created the California Creative Corps (CCC) in response to the Covid-19 pandemic. While collectively we may have moved on from the shock of 2020, the importance of public health, climate health, civic engagement and participation is evergreen. The CCC grant positions artists and culture bearers as uniquely situated to engage meaningfully and boldly with four program goals in public spaces and community life; to speak powerfully to intersectional public interest goals across traditional lines of divide.
Yuba Sutter Arts & Culture is a partner agency in the California Creative Corps grant for the Upstate Region of Northern California. The application and guidelines will be available through the Nevada County Arts Council (our 19-county region's Administering Organization) in early February 2023. This page will be updated often, as needed, with relevant information and links.
Please note: until the official Guidelines and Application are released, all information found here may be subject to change.
PROGRAM GOALS
Soon, artists throughout the state of California will have the opportunity to apply for California Creative Corps grant funding to address one or more of these four program goals in their work:
Public health – the health of the population as a whole. This program goal includes public health awareness messages to stop the spread of COVID-19.
Climate mitigation & conservation – involves reducing the flow of heat-trapping greenhouse gases into the atmosphere, either by reducing sources of these gases (for example, the burning of fossil fuels for electricity, heat, or transport) or enhancing the "sinks" that accumulate and store these gases (such as the oceans, forests, and soil). This program goal includes public awareness around water and energy conservation, as well as emergency preparedness, relief, and recovery.
Civic engagement – Civic engagement refers to the ways in which citizens participate in the life of a community in order to improve conditions for others or to help shape the community's future. It means promoting the quality of life in a community, through both political and non-political processes and encouraging election participation.
Social justice & community engagement – Social justice is the view that everyone deserves equal economic, political and social rights and opportunities. This program goal aims to open the doors of access and opportunity for everyone, particularly those in greatest need.
APPLICATION PATHWAYS
Artists in the Upstate Region of California (a nineteen-county region that includes Yuba & Sutter Counties) are expected to be able to select from a range of possible grant application pathways:
Individual Artists and Small Artist Collaboratives ($5,000 up to $15,000)
The individual artist, including first-time applicants, would be invited to engage directly with one or more of the four programs goals to create public awareness around these program goals, or their solutions.
Collaborative Community Agency Partnerships ($25,000 to $49,999)
Larger scale effort involves more people, there may be two or more organizations and multiple artists engaged to enhance public awareness and outcomes that show change or growth around one or more of the four program goals (or solutions). Govt. agencies would likely be engaged beginning with this level.
Regional or Multi-County Projects and Coalitions ($50,000 to $99,999)
This would be a multi-agency, multi-county and/or regional partnership that creates deep engagement between artists and government agencies or departments around one or more of the four program goals or their solutions. Applicants would likely work directly with the Administering Organization on this application.
Transformational Artist-Agency Incubators ($100,000 to $175,000)
A Creative Partnership places an artist in a governmental agency or with a
non-profit, to help the organization transform prior working models into prototypes of innovative practice around one or more of the four program goals, and can be an incubator for new solutions that feed into the agency itself or serve as a larger incubator for the entire Upstate region.
HEALTHY PLACES INDEX
The California Healthy Places Index offers a springboard from which to consider local and regional proposals for funding through this grant. In areas with the most adverse health outcomes, how can artists help to move the needle on the issues of greatest concern to our communities? We believe the most innovative and inspiring answers to this question are as yet still before us and now is the time to begin dreaming up grant proposals!
Important Links:
The application and guidelines, when they are published, will be available on the Upstate Creative Corps website: https://www.upstatecreativecorps.org/
If you are interested in serving as a panelist for Yuba-Sutter, please apply at the button below!
The Upstate Creative Corps also has a Facebook page where they will share information and events related to the grant: https://www.facebook.com/UpstateCaliforniaCreativeCorps
Networking Assistance: The Upstate Creative Corps invites artists, cultural practitioners and culture bearers, as well as those serving organizations tackling important local and regional issues, to communicate both within and beyond their usual circles, in order to share a deeper understanding of one another's work, and to promote partnerships across the region. We hope your daily conversations will inspire new projects that create awareness for public health, environmental issues, climate mitigation, and emergency preparedness, relief, and recovery, civic engagement and social justice issues. Join the "Conversation Cafe" on Facebook to network and brainstorm grant proposals across the region here: https://www.facebook.com/groups/creativecorpsconversationcafe
In early November 2022, Yuba Sutter Arts & Culture and Nevada County Arts Council co-hosted a "Listening Tour" and introduction to the Healthy Places Index, an important element of the California Creative Corps. A recording of the meeting is available at this link.
A recording of David Kipen's talk "WPA & the California Creative Corps" on January 17th is here.
FAQs:
When will the application be available? The application and guidelines for our entire region will be published by Nevada County Arts Council in early 2023. The estimated release date is February 1, 2023. This is subject to change!
What should I be doing now? Check this page frequently for updates and begin networking with relevant partners with whom you are considering submitting an application. For example, an artist who wishes to propose a mural related to disaster preparedness with an emphasis on preparing for wildfire, would likely want to begin discussions with Fire Safety Experts in their area and would be working to secure site permission with the important caveat that until the guidelines and application are published, discussions should be somewhat provisional. You might also want to join the Conversation Cafe on FB to network and share ideas with others who intend to apply, especially if your proposal concept is regional in nature.
How much funding is available? There is $3,384,043 available for our 19-county Upstate Region.
What is the purpose of this grant and where do the funds come from? The 2021 State Budget included a $60 million one-time General Fund allocation for the California Arts Council to implement the California Creative Corps pilot program, a media, outreach, and engagement campaign designed to increase: 1. public health awareness messages to stop the spread of COVID-19; 2. public awareness related to water and energy conservation, climate mitigation, and emergency preparedness, relief, and recovery; 3. civic engagement, including election participation, and; 4. social justice and community engagement. The CAC sees this program primarily as a job creation and infrastructure development opportunity that will increase the ways in which artists are engaged in public work so that they can continue to support the realization of these goals—and intersectional public interest goals—beyond the three-year pilot funding timeline.