Yuba-Sutter Flash Film Festival Screening Event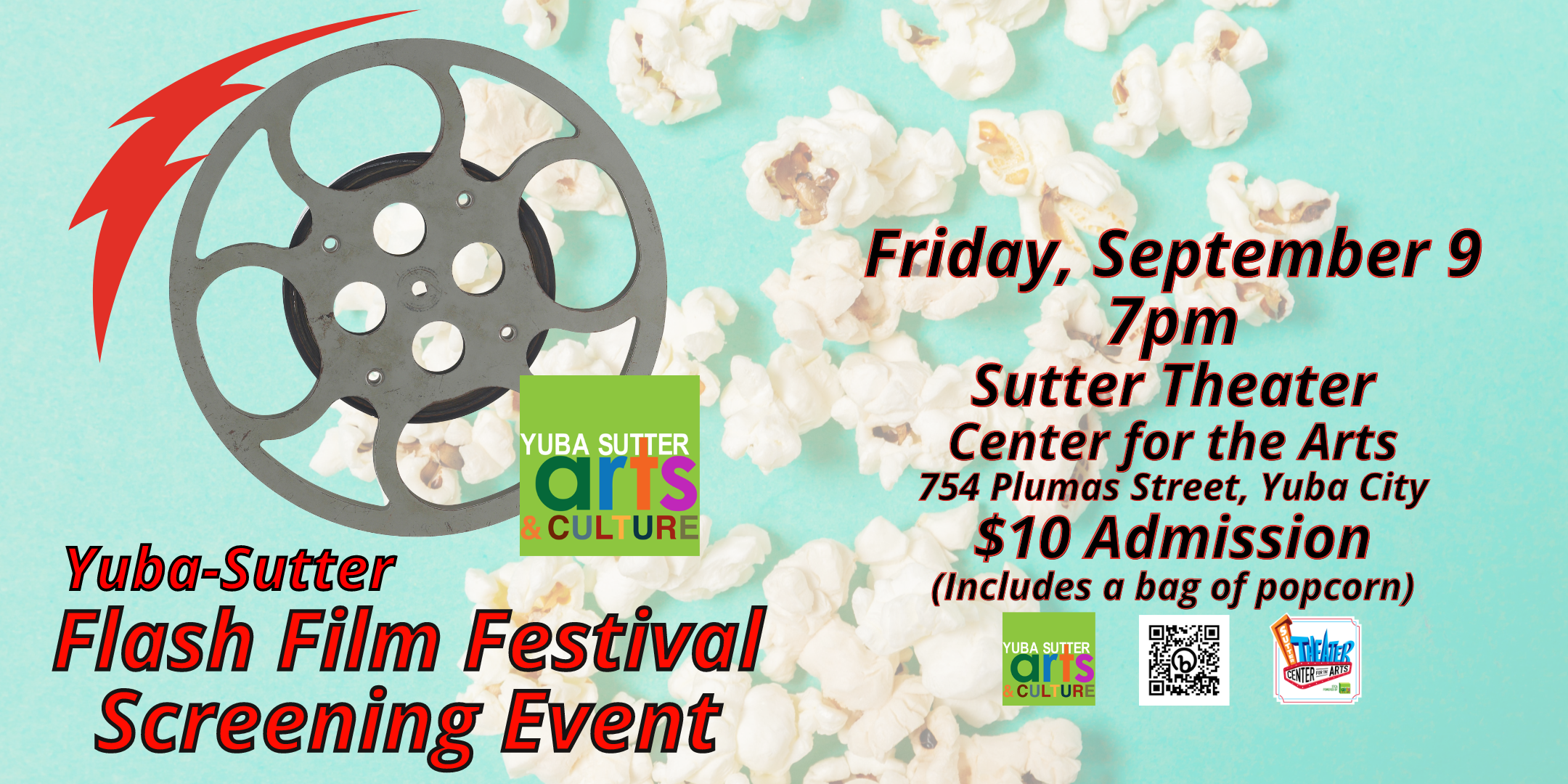 You heard about the challenge. Now it is time to meet the filmmakers who met the challenge and produced short films based on randomly assigned subjects in only 48 hours, start to finish. The screening event for the Yuba-Sutter Flash Film Festival will be held on Friday, September 9 at 7pm in the Sutter Theater Center for the Arts, 754 Plumas Street in Yuba City. Admission is $10 and includes a free bag of popcorn with each admission.
"We wanted to offer filmmakers from amateur to professional the opportunity to take on a new type of cinematic challenge," said David Read, Yuba Sutter Arts & Culture Executive Director. "The mission presented to the filmmakers was to create a complete four-to-six-minute short film from start to finish in just 48 hours," he added.
Eight filmmaking teams attended the kickoff event. Six of them were able to complete their films and turn them in on time. The rules were pretty simple. In a random drawing, each participating group were assigned a topic for their film and were given additional required elements that had to appear in their film including a designated prop and a line of dialogue along with a minimum of two actors.
The required prop had to be seen on-screen. The required line of dialogue, all of which were famous lines from movies, had to be used verbatim. It could be spoken, sung and/or written. To qualify as an official entry, each group's film had to about the subject it selected, must contain all required elements and be within the official time limit of four to six minutes.
The six filmmakers or filmmaking teams and their subjects include Shon Harris – Society vs. Nature, Shamaya Sutton and Tyler Zepp – The Good, the Bad and the Ugly, Chuck Smith – Human vs. Machine, Kevin Belcastro – Jealousy/Envy, Nathan Schemel, and the Mass Comm Students of Yuba College – Far Away in Another Time and Adrian Anderson – Family Drama. Films will be judged based on engaging and interesting stories, camera technique, understandable audio, thoughtful lighting and editing transitions and use of music to create mood. Cash prizes are $500 for first place, $300 second place and $200 for third place. The Flash Film Festival is a project of Yuba Sutter Arts & Culture, the local affiliate of the CA Arts Council dedicated to expanding opportunities and access for artists and audiences. "Lights, camera, action!"
For more information about this event and other YSAC 2022 program, head here https://yubasutterarts.org/event/flash-film-festival-2022/