Yuba-Sutter Flash Film Festival Screening Event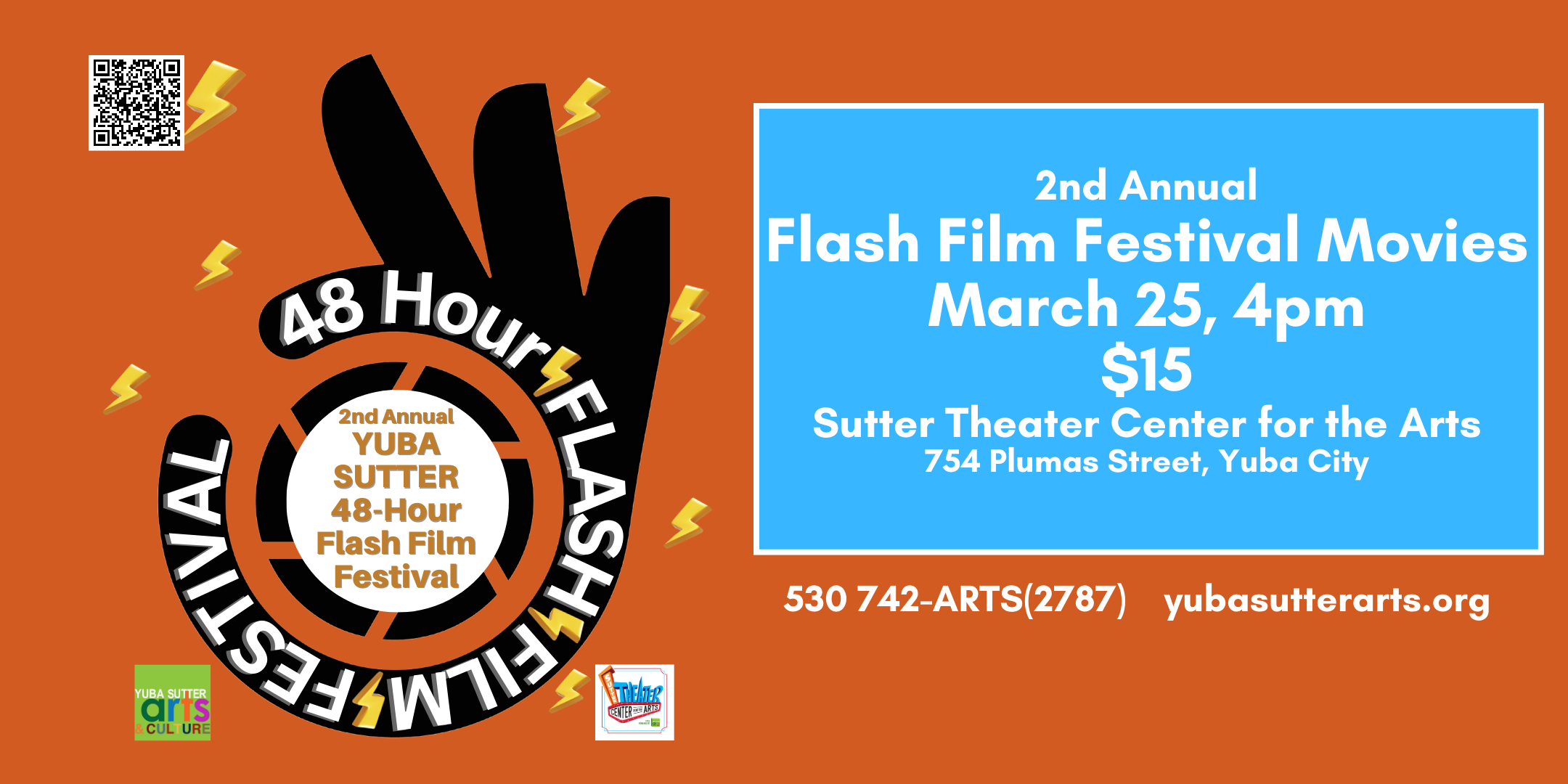 See What Local Filmmakers Were Able to Create in Just 48 Hours
Local filmmakers have once again risen to the challenge of making a short film in just 48 hours. The second Annual Yuba-Sutter Flash Film Festival welcomed back some veteran filmmakers as well as some newcomers to this year's event. Now it's time to get everyone together and see what the teams created. During a random drawing, each team drew a theme, along with an object and a line of dialogue from a famous film that had to be incorporated into the film. Each film also had to comply with a time limit of 4-6 minutes.
The Flash Film Festival screening event and award ceremony will be held at the Sutter Theater Center for the Arts, 754 Plumas Street in Yuba City on Saturday, March 25th starting at 4pm. Doors will open at 3pm. Tickets are $15 and are available at yubasutterarts.org. Here are this year's entries along with each of the random elements:
The Chicken King – Directors: Jesse James Ricks, Arsh Abedi, Olivia Banuelos, Eric M. Ricketts
Theme: It's A Trap! Object: Rubber Chicken, Line: "As if you could outrun me! As if you could fight me off!"
The Geomorphology of Face (Your Worst Nightmare) – Directors: Marti Brown & Sonja Skvarla
Theme: Your Worst Nightmare Object: Vinyl Record Quote: "Get in Loser. We're Going Shopping"
Horla – Director: Kevin Belcastro
Theme: Night of Terror Object: Box of Orange Jell-O Quote: "Nobody puts baby in the corner!"
Ride By Me – Director: Madison McGrath
Theme: A Fairytale Ending Object: Bathtub Quote: "Keep the change you filthy animal!"
Your Dreams: Now in Color – Director: Ethan Bohmann, Yuba College Mass Communications Department
Theme: All the World is a Stage Object: Covid Test Kit Quote: "If you're not with me than you're my enemy"
Harper Marie – Director: Shon Harris
Theme: A Day in the Life of an Influencer   Object: Egg  Quote:  "I see you shiver with anticipation"
Films will be judged based on engaging and interesting stories, camera technique, understandable audio, thoughtful lighting and editing transitions and use of music to create mood.  Cash prizes are $500 for first place, $300 second place and $200 for third place. The Flash Film Festival is a project of Yuba Sutter Arts & Culture, the local affiliate of the CA Arts Council dedicated to expanding opportunities and access for artists and audiences. 
---
---