Yuba Sutter Big Band in Concert at the Sutter Theater Center for the Arts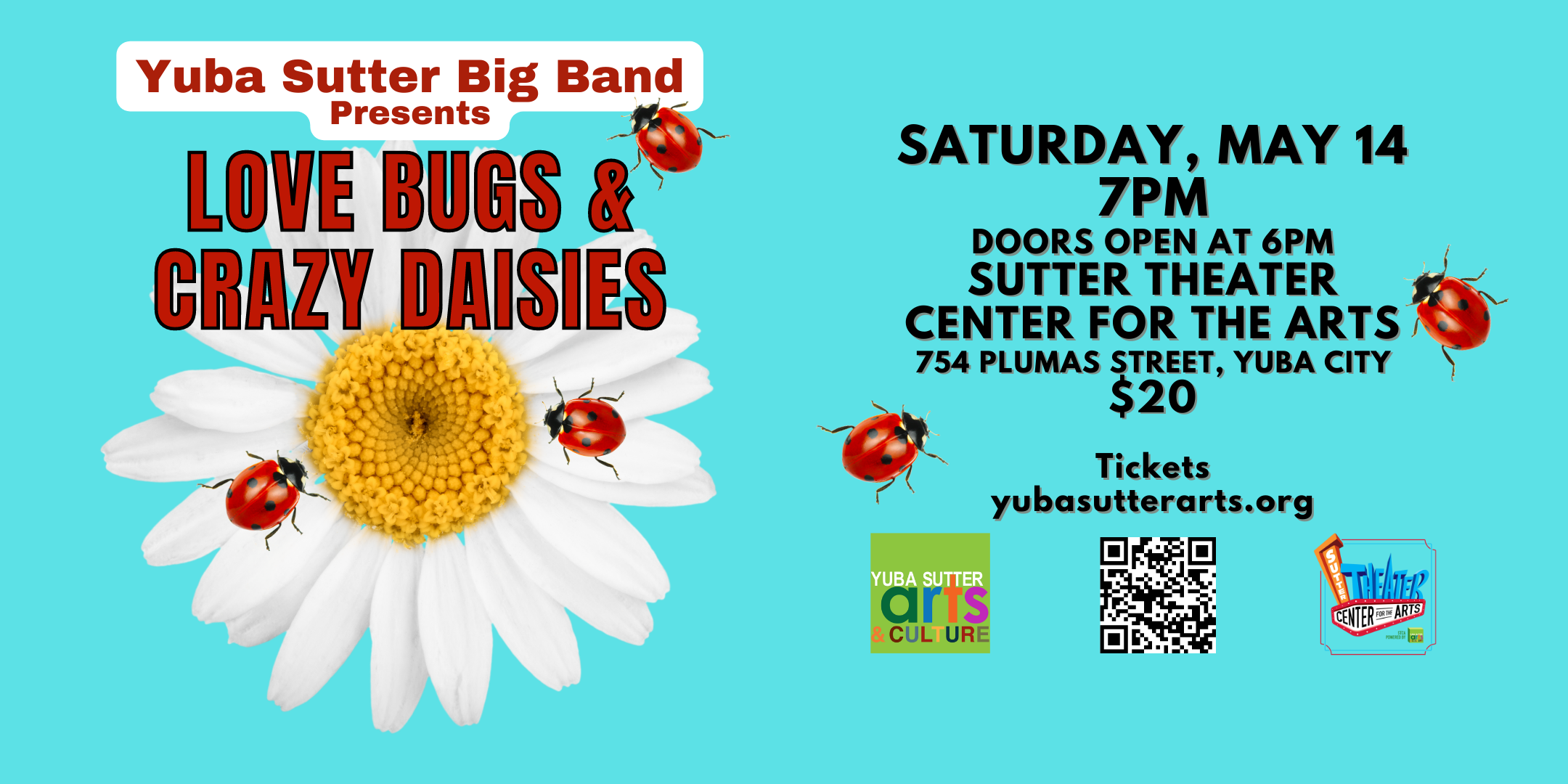 "Love Bugs and Crazy Daisies"
The Yuba Sutter Big Band jazz orchestra is back. The band includes over 20 local professional musicians playing tunes from the American Songbook and jazz versions of other popular songs. Be sure to wear your dancing shoes. This concert is the second in the band's inaugural season and is a great way to celebrate Spring. Many of the musicians are local music educators so come out and show your support for this talented group who are "paying it forward" in our schools training the next generation of musicians. The concert will be held on Saturday, May 14 at 7pm at the Sutter Theater Center for the Arts, 754 Plumas Street in Yuba City. Tickets are available at yubasutterarts.org.
A big band or jazz orchestra usually consists of ten or more musicians with four sections and often a vocalist: saxophones, trumpets, trombones, and a rhythm section. It is a uniquely American musical form that originated during the early 1910s and dominated jazz in the 1940s when swing was most popular. Big bands started as accompaniment for dancing. In contrast to the typical jazz emphasis on improvisation, big bands relied on written compositions and arrangements. They gave a greater role to bandleaders, arrangers, and sections of instruments rather than just soloists.
The band is the brainchild of local professional musicians and music educators Deanna Wiseman and Gay Galvin. "When Deanna first brought up the idea of a community big band, I was all in," said band director, Gay Galvin. She added, "We are lucky to have some of the finest musicians in the area playing with us."
Gay has played with several big bands during her long career. While working on her master's, she played with the college jazz band which did a mix of contemporary and traditional swing music. For several years, she performed regularly with a band called Swingmania and with another group that featured very old 20s type music from the early days of big band. Deanna has a Master of Art in Education degree and has been teaching for 23 years, currently in the Marysville Joint Unified School District. She has played with the Oroville Community Band, Shasta and Yuba College Concert and Jazz bands as well as the Ukuladies and the CSU Chico Concert and Jazz bands.
Members of the Yuba Sutter Big Band also include Paula Clingan, Becky Stewart, James Lohman, Gary Anderson, Scott Stewart, John Proctor, Obie Leff, Pablo Rosado, Mike Sarringar, Larry Faller, Dave Brubaker, Ron Hake, and Christine Buckstead. Scott Zeuch and Jonathan Turbach are both trombone players who are new to the band. Leslie Anderson will be performing on piano and Sarah Lacko is the featured vocalist.
The set list for the concert includes classics like Someone to Watch Over Me, Why Don't You Do Right, Mack the Knife, Woodchoppers Ball, Satin Doll, 25 or 6 to 4, Boogie Wonderland, Straighten Up, You're Nobody 'til, Here's That Rainy Day, Besame Mucho and many more.
Come swing along with the Yuba Sutter Big Band. Buy your tickets in advance so you don't miss out.