Yuba Sutter Big Band in Concert at the Sutter Theater Center for the Arts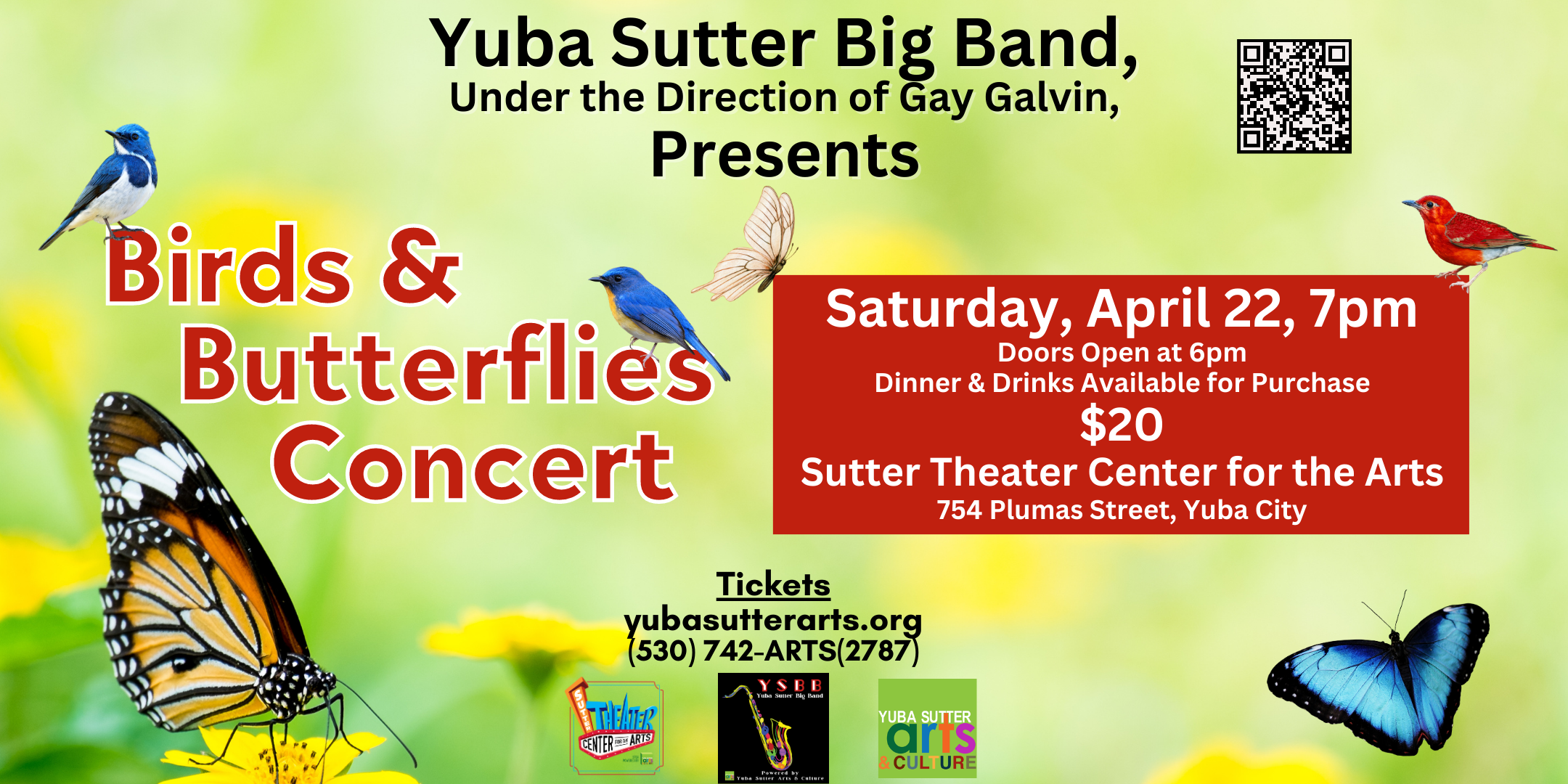 "Birds and Butterflies"
The Yuba Sutter Big Band jazz orchestra has become a staple at the Sutter Theater Center for the Arts in downtown Yuba City. The band includes 20 local professional musicians playing tunes from the American Songbook and jazz versions of current pop songs. This "Birds and Butterflies" spring concert gives flight to 2023 and will be directed by co-founder Gay Galvin. The concert will be held on Saturday, April 22 at 7pm with doors opening at 6pm at the Sutter Theater Center for the Arts, 754 Plumas Street in Yuba City. Dinner and drinks will be available for purchase. Tickets are $20 per person and are available at yubasutterarts.org.
The Yuba Sutter Big Band provided live music for the Swing Dance Party last year and performed a sold-out holiday concert in December. Their "Birds and Butterflies" spring concert is sure to bring you to your feet, as it is nearly impossible to sit still through these sets. Dancing will be encouraged! The concert will include popular favorites including Eleanor Rigby, April in Paris, Begin the Beguine, Sweet Georgia Brown, Someone to Watch Over Me, I Get a Kick Out of You, Beyond the Sea, Route 66, Nice and Easy and many other tunes.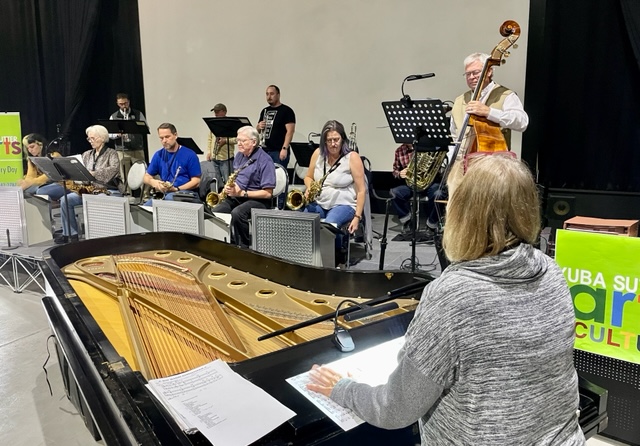 This concert will be led by Gay Galvin, who has played with several big bands during her long career. She began her love for piano as a tiny tot, improvising on her toy piano at the age of three. Gay began her Suzuki teacher training three decades ago in Columbus, OH. Gay now lives the dream of teaching and playing piano full-time right here in Yuba-Sutter. She performs with her own jazz trio, The Gay Galvin Trio, and a couple of times each year with her husband, Tom Galvin. Her love for jazz is infectious and her talent has brought a new level of performance to Yuba-Sutter.
Many of the musicians in the Yuba-Sutter Big Band are local music educators who have spent decades enlightening the youth of Yuba-Sutter. The band's membership roster includes Paula Clingan (Alto 1), Becky Stewart (Tenor1/Flute), James Lohman (Alto 1), Gary Anderson (Tenor II), David Coe (Bari), Scott Stewart (Trumpet), John Proctor (Trumpet), Ray Blackham (Trumpet), Pablo Rosado (Trumpet), Elizabeth Adams (Bass Trombone), Mike Sarringar (Trombone), Scott Zeuch (Trombone), Bill Eslick (Trombone), Larry Faller (Trombone), Karin Hofland (Trombone), Dave Brubaker (Bass), and Ron Hake (Drums) among others. Gay Galvin plays piano and conducts while Sarah Lacko and David Wickline alternate on the vocals. Come swing into Spring with the birds and butterflies and the Yuba Sutter Big Band. Buy your tickets in advance before they sell out at yubasutter.org. For more information about Yuba Sutter Arts & Culture programs and events, call 530-742-ARTS or email david@yubasutterarts.org.
---
---