YSAC is Hiring!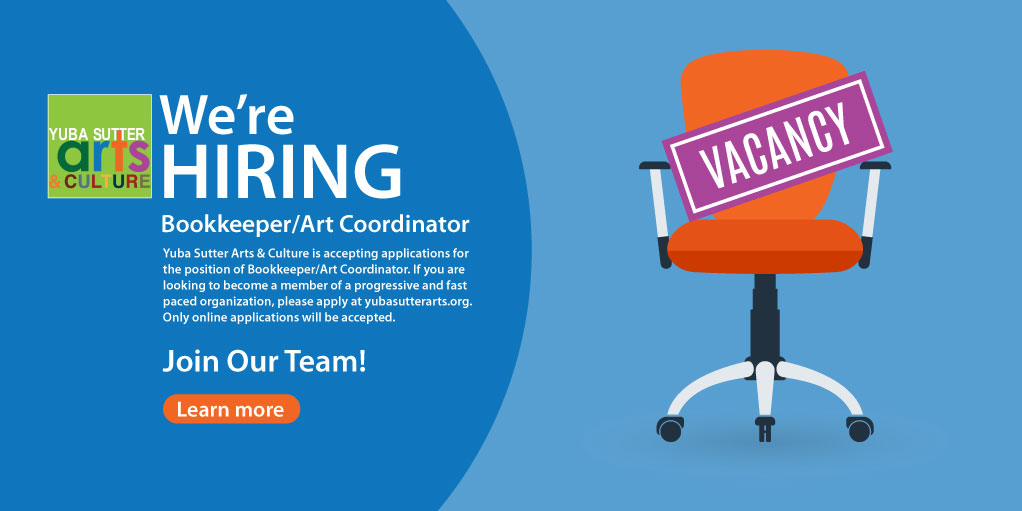 Bookkeeper/Arts Coordinator
Yuba Sutter Arts & Culture is accepting applications for the position of Bookkeeper/Art Coordinator. If you are looking to become a member of a progressive and fast paced organization, please apply at yubasutterarts.org. Only online applications will be accepted.
Yuba Sutter Arts is celebrating its 40th year, and we are a premier arts organization within the State of California. We provide many services within our two county service area including, but not limited to Arts in Educaiton, Public Art, Theater Arts, Literary Arts. Veteran Art Projects and so much more!
All that qualify are welcome to apply. Yuba Sutter Arts & Culture is committed to cultivating and preserving a culture of inclusion and connectedness. We are able to grow and learn better together with a diverse team. The collective sum of the individual differences, life experiences, knowledge, innovation, self-expression, and talent that our employees invest in their work represents not only part of our culture and community, but our reputation. In recruiting for our team, we welcome the unique contributions that individuals can bring in terms of their education, culture, ethnicity, race, gender identity, age, languages spoken, veteran status, nationality, religion, disabilities, sexual orientation, and beliefs.
Applications will be accepted until the position is filled.
Download a complete job description and application below. Return the completed application and your resumé to abbie@yubasutterarts.org.