Update On the Cotton Rosser Bronze Statue Project
Last October, the maquette or model of the statue of Cotton Rosser was unveiled at the Burrows Center for the Arts in Marysville. The statue which will be placed in Plaza Park on First Street in Marysville. Sadly, Cotton, who passed away earlier this year, will not be on hand when the statue is unveiled, but it will help preserve his important legacy in the community. The location overlooks the terminus of the annual cattle drive.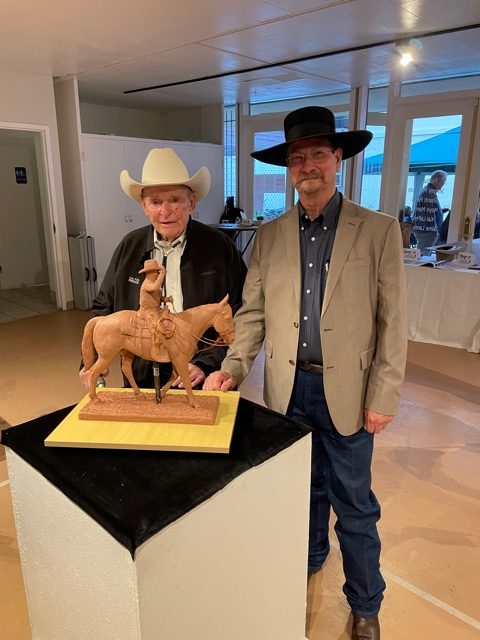 Cotton Rosser was legendary in the professional rodeo world as the owner of the Flying U rodeo livestock contracting firm and was inducted into the Pro Rodeo Hall of Fame in 1995. He is equally legendary in his hometown of Marysville as an entrepreneur and owner of Flying U and Cotton's Cowboy Corral western wear store. In 2021, a group of community leaders came together and began planning for the Cotton Rosser Bronze Statue project.
The committee has raised just over $100,000 of the $250,000 budget required to move the project forward. Turns out that seven tons of bronze for the one and a quarter times life size statue is expensive and represents the bulk of the cost along with site improvements.
And now, two anonymous major donors have come forward with a challenge grant. They have offered $75,000 as a match for every dollar raised between now and the end of the year. In other works, if we can come up with $75,000, they will match it and that will give us an additional $150,000 or most of what we need to move the project forward to completion. The catch is we need to raise the full $75,000 for the match. It is an all or nothing proposition.
Noted western artist and sculptor, Jeff Wolf, was chosen to create the sculpture. Jeff knew Cotton for decades as a competitor and had his first and last pro rodeo bull rides on Flying U bulls. Jeff spent a full day with Cotton last year to get all the details of the statue correct. Cotton and his family were at the model unveiling at Yuba Sutter Arts & Culture last October. The bronze table top of the statue can be viewed at the Silver Dollar Saloon in Marysville.
Do not miss this very special opportunity to help us create the first large scale monument in Yuba-Sutter in honor of a very special member of our community. Contributions of all sizes are welcome by Yuba Sutter Arts & Culture, a non-profit 501(c)(3) corporation, which was chosen as the fiscal sponsor for the project and is accepting cash, checks and credit card donations.