Umbrella Sky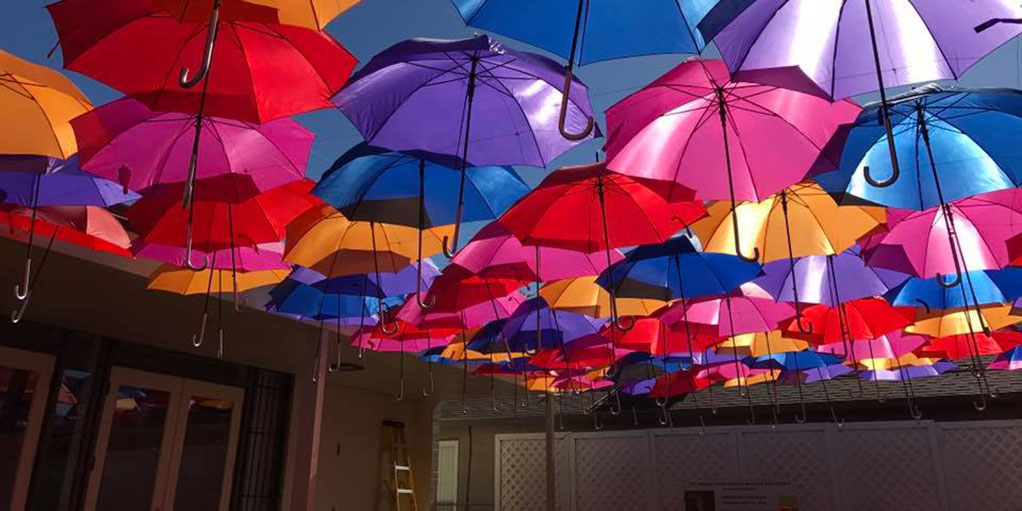 So what are those 100 umbrellas doing floating over the central courtyard at Yuba Sutter Arts? In a practical sense, they provide shade from the intense summer sun, but there's a lot more to the presence of the umbrellas than a simple utilitarian function. Most importantly, when you see them they will make you smile!
The original Umbrella Sky Project began in 2011 as a part of an annual art festival in Águeda, Portugal. Each year, during the hot summer months, a handful of the city's narrow streets gain colorful umbrella canopies that provide shade for the pedestrians passing through.   The numerous parasols help cool the roadways in a creative and cost-effective way, and the sea of umbrellas forms a unique pattern overhead as well as changing shadows on the roadway below.
"We first heard about the Umbrella Sky concept in an article in a recent issue of Sactown magazine titled, 'Why Not Here'," said David Read, Yuba Sutter Arts Executive Director. "We said, 'why not?' and started planning our installation which came together in about three weeks," he added.
There is an aesthetic to the colors and the shapes of the umbrellas and the geometric shadows they cast on the ground. Even the slightest breeze causes the umbrellas to shift and realign themselves turning them into "dancing umbrellas." Five different color umbrellas were used, each about 40" in diameter. They are suspended on a wire grid system about ten feet off the ground.
In Águeda, these pop-up shade structures have become an annual summertime installation and they have developed a cult following around the world.  Creators of the Umbrella Sky Project have also launched offshoots of this work in other cities including a few in the United States, where they have added to the streetscape by stringing multicolored balloons over urban alleyways. The polka-dot shadows that shine down onto the street below add more color to people's lives in everyday settings.
Umbrella Sky will be on display through at least September. There is no admission to view the installation or any of the Yuba Sutter Arts exhibits. Hours are Wednesday through Saturday from 11-4 or at other times by appointment. Yuba Sutter Arts is located at 624 E Street in Marysville. Plenty of free parking is available on the streets adjacent to the theatre and at the Umpqua Bank and Bank of America parking lots directly across the street. Come support art in the community and enjoy this unique project.