Two Ghosts Towns…Tales to Tell about Hammonton and Marigold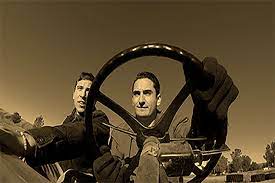 A Yuba County History Film Presentation at Yuba Sutter Arts & Culture
Did you know there are two ghost towns from our gold mining past right here in Yuba County? Hammonton and Marigold were thriving gold dredger communities from 1906 until late in the 1950's. They were originally located opposite Browns Valley on the south bank of the Yuba River. They were founded and owned by Wendell Hammon. Known as a dredger town, some 600 families lived and worked there. Over $138 million of gold was dredged from the Yuba River, but when the price of gold began to decline, the two towns were abandoned. Families and houses were relocated, and they became almost forgotten ghost towns.
Join the Yuba County Historic Resources Commission and special guest speaker and filmmaker, Doug Criddle, for a 1st Saturday Talk and Tour film screening event on June 4th at 10AM at Yuba Sutter Arts & Culture's Burrows Theater to learn more about this fascinating part of our local history.
Doug Criddle's father, Bob was a third-generation product of the Hammonton/Marigold community. Doug and his family have produced an award-winning documentary that portrays a part of California's gold mining history incorporating his father's stories. They gathered personal stories and other tales of the wild adventures of those who lived, worked, and grew up in those times in Hammonton/Marigold.
Come join us for a flash back to the past with The Hammonton Boys on Saturday June 4th at 10AM at the Yuba Sutter Arts & Culture's Burrows Theater at the corner of 7th and E Street in Marysville. Stay after the presentation for a meet and greet reunion with some old and new friends.
Light refreshments will be served. A $10.00 donation is gladly accepted. Copies of the DVD will be available for purchase. For more information contact Commission Chairperson, Sue Cejner-Moyers at 530-218-4070.