Theater Art Gallery Opening Reception for August 2022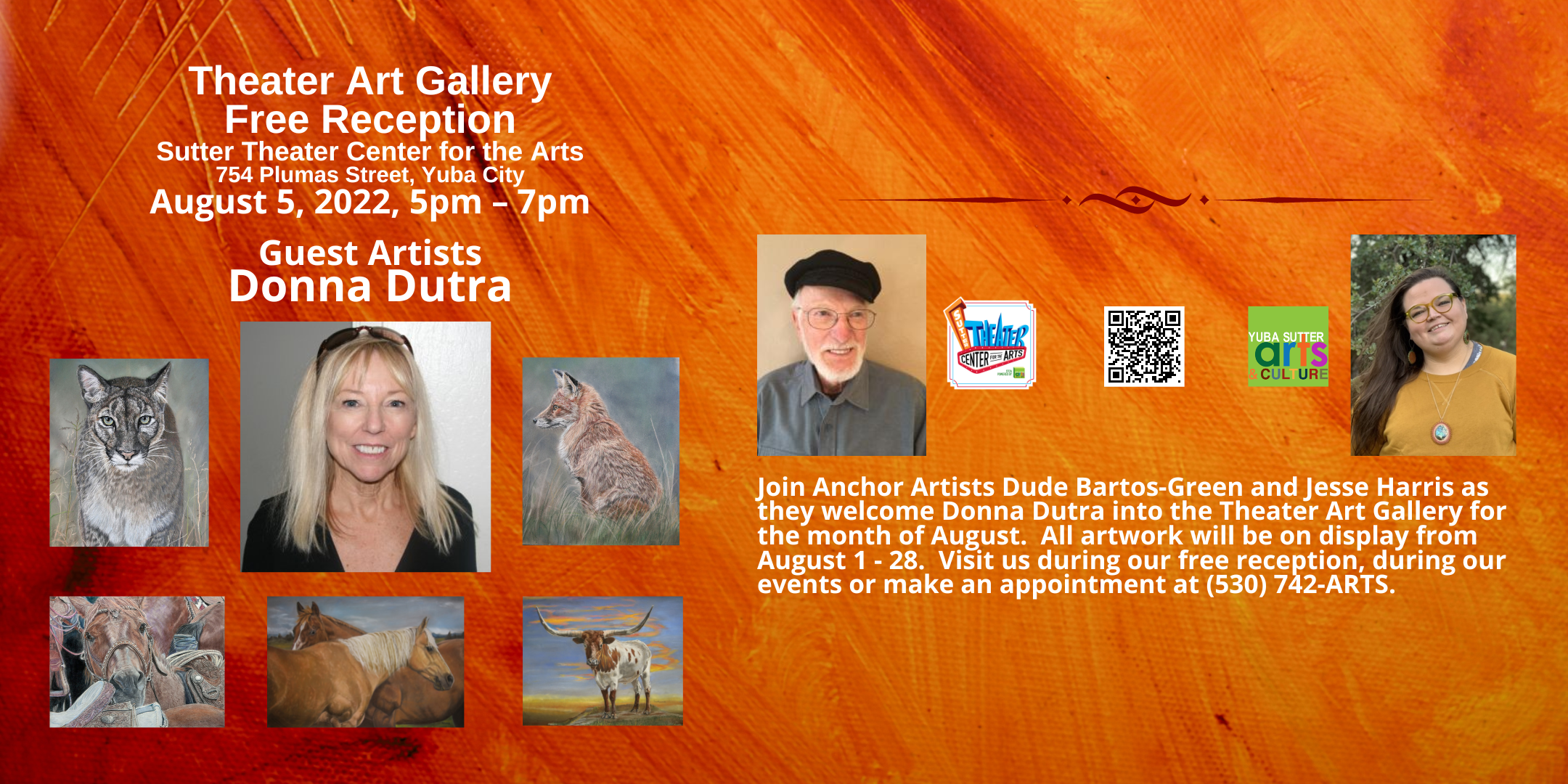 Guest Artist Donna Dutra!
Continuing its tradition of an art gallery special event each month, Yuba Sutter Arts & Culture invites you to an opening reception on Friday August 5th at its Theater Art Gallery located inside the Sutter Theater Center for the Arts. The Gallery is open and ready for the public to come see a wonderful new monthly art show with art flowing out of the Gallery and into the lobby in celebration of local artists.
Each month, special guest artists are invited in. The guest artist for August is pastel artist, Donna Dutra. Best known for her paintings of animals and the western lifestyle, Donna captures the spirit of every animal she paints with detailed accuracy. Her work focuses on the beauty of all living creatures. Donna and her husband reside in the foothills of Northern California surrounded by 5,700 acres of ranchland and wildlife. Donna says her artistic mission is to enlighten the viewer and to create a clear awareness of the inherent spirit of the animals she portrays. She strives to capture their individual essence.
"I believe each painting must have its own life and existence," said Donna. "I also believe the animals I paint must be portrayed with the detailed accuracy they deserve so the art and the animal are both honored and well served," she added.
Donna says she is not a poet and does not do well with words. She uses her art to celebrate wildlife and try to preserve it. Donna chooses to focus her art on the essential beauty of all living creatures.
The Theater Gallery Anchor Artists include metal artist Dude Green and indigenous jewelry artist Jesse Harris. Come see the work of the Anchor Artists alongside our special guest artist at a Gallery Reception on Friday, August 5 from 5-7pm in the Theater Gallery at the Sutter Theater Center for the Arts, 754 Plumas Street in Yuba City. Plan to visit and see the work and meet these remarkable artists. Free beer, wine, water, and appetizers will be served.
Your purchase of a work of art whether it be a greeting card, a pair of earrings, a print, a metal sculpture, or other original artwork helps support the artist as well as Yuba Sutter Arts & Culture.
Plenty of free parking is available on Plumas Street and the streets adjacent to the theater. For more information about this event and other upcoming 2022 programs during our 41st year, contact Yuba Sutter Arts & Culture at 530-742-ARTS or email david@yubasutterarts.org.