Theater Art Gallery Opening Reception for June with Guest Artists Amanda Robinson and Ty Po!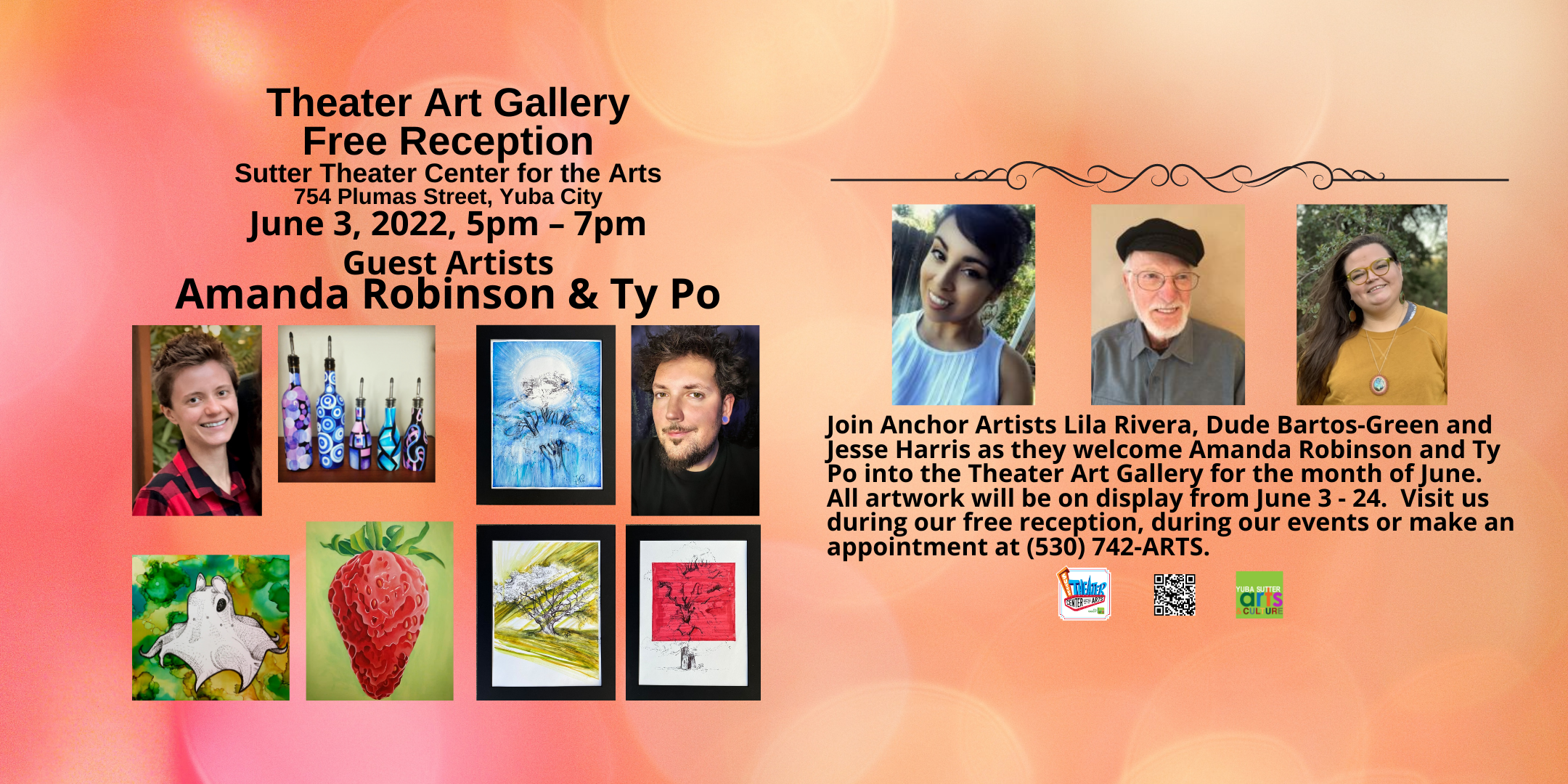 Continuing its tradition of an art gallery opening each month, Yuba Sutter Arts & Culture invites you to an opening reception on Friday June 3 at its Theater Art Gallery located inside the Sutter Theater Center for the Arts. The Gallery is open and ready for the public to come see all the wonderful new art on display with art flowing out of the Gallery and into the lobby in celebration of local artists.
This month's special guest artists are Amanda Robinson and Ty Po. Amanda is an artist currently living in Chico. She graduated from Yuba City High School in 2008 and Chico State in 2014 with a degree in video game design. Since 2015, Amanda has worked in the fashion industry and has designed graphic apparel for retailers including Target, Walmart, Kohls, and Ross. As an artist, Amanda considers herself an experimental creative who thrives on the learning process, hence the various mediums and subject matter in her work.
Ty Po is a mixed media artist who loves to draw with all the colors in the crayon box! His enthusiasm for making art has led him to create using many different mediums. Ty is an art lover covering many genres and a wide range of subjects, from pencil portraits to watercolor landscapes and more. He believes that his mission in life is to share his love and joy for the world through art with as many people as possible.
The Theater Gallery Anchor Artists include metal artist Dude Green, jewelry artist Jesse Harris, and visual artist Lila Rivera. Come see the work of the Anchor Artists and our special guest artists at a Gallery Reception on Friday, June 3 from 5-7pm in the Theater Gallery at the Sutter Theater Center for the Arts, 754 Plumas Street in Yuba City. Plan to visit and see the work and meet these remarkable artists. Free beer, wine, water, and appetizers will be served.
The creative sector is still recovering from the devastating effects of the pandemic. Our local artists have been seriously impacted. Your purchase of a work of art whether it be a greeting card, a pair of earrings, a print, a metal sculpture, or other original artwork helps support the artist as well as Yuba Sutter Arts & Culture.
Plenty of free parking is available on Plumas Street and the streets adjacent to the theater. For more information about this event and other upcoming 2022 programs during our 41st year, contact Yuba Sutter Arts & Culture at 530-742-ARTS or email david@yubasutterarts.org.