The Gallery at the Sutter Theater Center for the Arts Presents
The Work of Mary Ann Nation During June
It is important to step back occasionally and recognize the depth and breadth of our local art community. The cavalcade of visual artists that Yuba Sutter Arts & Culture can present each month in its Theater Gallery at the Sutter Theater Center for the Arts is remarkable. Some are new discoveries, and some are old friends and familiar faces. Take for example this month's special guest artist, Mary Ann Nation. Mary Ann is a self-described 'workshop trained' artist who began painting over two decades ago upon retiring from her first career. Initially, she was not really interested in painting, but two friends insisted that she give it a try. One workshop later at the Mendocino Art Center and she was hooked.
During the month of June, Yuba Sutter Arts & Culture will celebrate the art of Mary Ann Nation in the Gallery at the Sutter Theater Center for the Arts.  A free opening reception for the exhibition will be held on Friday, June 9, starting at 5pm, 754 Plumas Street in Yuba City. Appetizers, beer and wine will be served. The show will remain on display through June.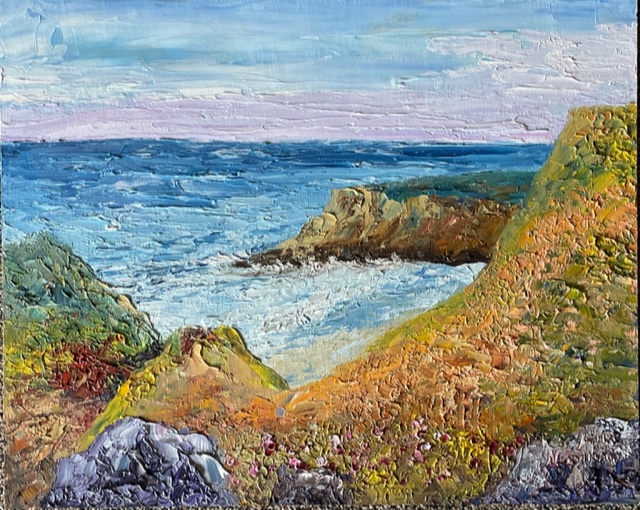 "Painting has become for me a way to capture nature as I see it and thus to be able to share its beauty with others," said Mary Ann.
Many workshops later, Mary Ann has found painting to be a very important part of her life. She has worked with many talented artist/educators including Bob Burridge, Hope Stevenson, Erin Dertner, Sandy Delehanty, Jeff Leedy, Caroline Ometz and Susan Sarback. She describes her artistic style and favorite subject matter as "loose, impressionistic landscapes and seascapes." She has shown at the Edgewater Gallery in Fort Bragg off and on for several years and has shown locally in Colusa, Marysville, Yuba City and Willows. Most of her paintings are done plein air style meaning outdoors at specific locations like along the coast of California and Oregon, as well as the Sacramento Valley, and a few in Southern California. All are done with water mixable oils and a palette knife. Mary Ann lives in Colusa with her husband, Bob (also an artist), and enjoys a lot of time with their three adult children and four grandchildren. As an extra added attraction, Bob also has paintings in the show. Bob picked up a brush several years ago and hasn't looked back. He uses oils and watercolors with brushes.
The Theater Gallery located inside the Sutter Theater Center for the Arts is also home to several Anchor Artists. See original works of art created by metal sculpture artist, Dude Green, indigenous jewelry and beadwork artist, Jesse Harris, ceramist Drew Sallee and textile artist (think hand dyed scarves), Pam Nowak. Your purchase of a work of art whether it be a painting, a greeting card, a pair of earrings, a print, a scarf, a metal sculpture, a mug or a bowl or other original artwork helps support the artist as well as Yuba Sutter Arts & Culture. For additional information about this exhibition, contact Yuba Sutter Arts & Culture at email@yubaustterarts.org.