Scholastic Writing Awards and Poetry Out Loud Programs Now Underway for Yuba-Sutter Students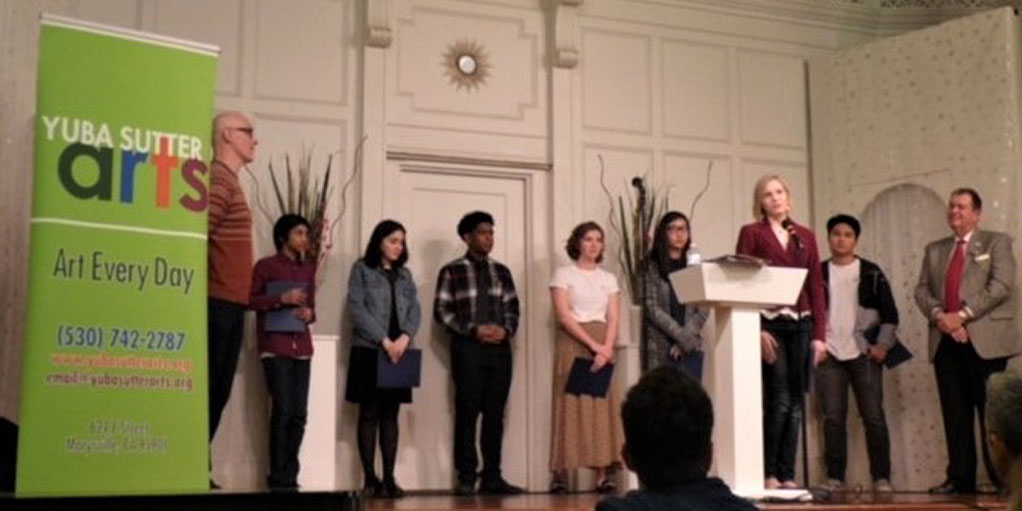 Yuba Sutter Arts is especially proud of its many Arts in Education programs. The school year is well underway, and we are ready to send teaching artists into local classrooms to talk about two of our premier programs; Poetry Out Loud and the Scholastic Writing Awards.
Each year at about this time, we ask for the support of educators and administrators in promoting these programs to their students. First up is the Scholastic Writing Awards program. This is our third year as the northern California affiliate for the program which continues to grow at an exciting rate in terms of student engagement and submissions. The art awards portion of the program is administered by the Sutter County Museum. This is an open call for creative writing and there are many writing categories available to students including poetry, short story, critical essay, journalism, science fiction and others. The deadline for submissions is January 9, 2020. More information is available at artandwriting.org. Yuba Sutter Arts can help with getting student work entered into the online system for judging. It will host the regional awards ceremony in its theater in February of 2020.
The second program with a deadline of next February is Poetry Out Loud. Yuba Sutter Arts is in our 11th year of sponsoring the program. Poetry Out Loud involves poetry memorization and recitation. There are 1,000 approved poems that run the gamut of eras, themes and styles that can be found at poetryoutloud.org. Students select a poem and commit it to memory. Again, Yuba Sutter Arts will host the local competition at its theater in Marysville early next February. The two county champions will go on to the state finals about a month later. The local first, second and third place winners from each county receive cash prizes. The California Arts Council produced a short video, "About California Poetry Out Loud," available at this link: https://youtu.be/wF6qJAZVBqg.
Yuba Sutter Arts hosts two spoken word open mic events each month for students that want to come out and practice reciting their poems for Poetry Out Loud or read an original piece of poetry or prose for a supportive audience. The first Thursday of each month, it meets at Yuba Sutter Arts, 624 E Street in Marysville and on the third Thursday of the month, the event is held at Justin's Kitchen, 628 Plumas Street in Yuba City. Both events start at 6:30 and are totally free.
Yuba Sutter Arts asks that interested teachers contact them to let them know of their intent to participate this year. It will then schedule in-class visits by its teaching/artists who will come out to discuss more of the details of each program. Yuba Sutter Arts will work to make it as easy as possible for educators to integrate these programs into the school year. We feel that now, more than ever, it is important to recog­nize creative endeavors and accomplishments and provide students with the support and resources they need to make creativity a lifelong pursuit. Please encourage any students that you know to get involved in these two wonderful programs.