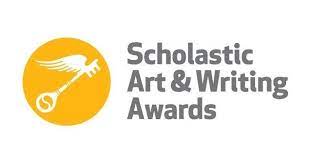 The nation's longest-running, most prestigious recognition program for creative teens!
The Scholastic Art & Writing Awards are the nation's longest-running and most prestigious recognition program for creative teens in grades 7–12.
This last year, students submitted nearly 320,000 works of visual art and writing to the Scholastic Awards; nearly 90,000 works were recognized at the regional level and celebrated in local exhibitions and ceremonies. The top art and writing at the regional level were moved onto the national stage, where more than 2,600 students earned National Medals. National Medalists and their educators were celebrated at the National Ceremony.
Here is the official website if you would like to take a look around: https://www.artandwriting.org/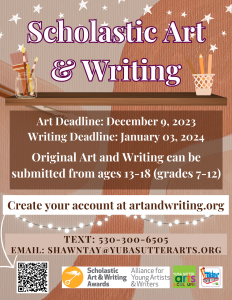 ---
Interested Students (ages 13-18) in grades 7th-12th, can create an account at artandwriting.org and begin submitting their work.
1. CREATE YOUR ACCOUNT
Both students and educators can create an account using our online portal. This is where you'll find your school and enter your work. CREATE YOUR ACCOUNT
2. UPLOAD YOUR BEST WORK
Don't forget to seek feedback from educators, family, and friends when editing your work.
For art, you will upload digital images of your work to enter into the Awards. Show your work at its best with high quality documentation. TIPS FOR DOCUMENTING YOUR WORK
Be sure to select the category that best represents your work. VIEW CATEGORIES
3. PAY FOR YOUR ENTRY
Entry fees are $10 per individual entry and $30 per portfolio. If the entry fee is a barrier to your participation in the Awards, you can request the fee to be waived in the online portal.
The Scholastic Awards open for entries in September and has separate deadline for Art and Writing.
Art Deadline is December 9th, 2023 by 11:59:59 PST
Writing Deadline is January 28th, 2024 by 11:59:59 PST
To learn more got to FIND YOUR REGION!
Visit our online galleries to see works from past National Medalists. VISIT THE GALLERY
---
Scholastic Ceremony – 2022