Poetry Square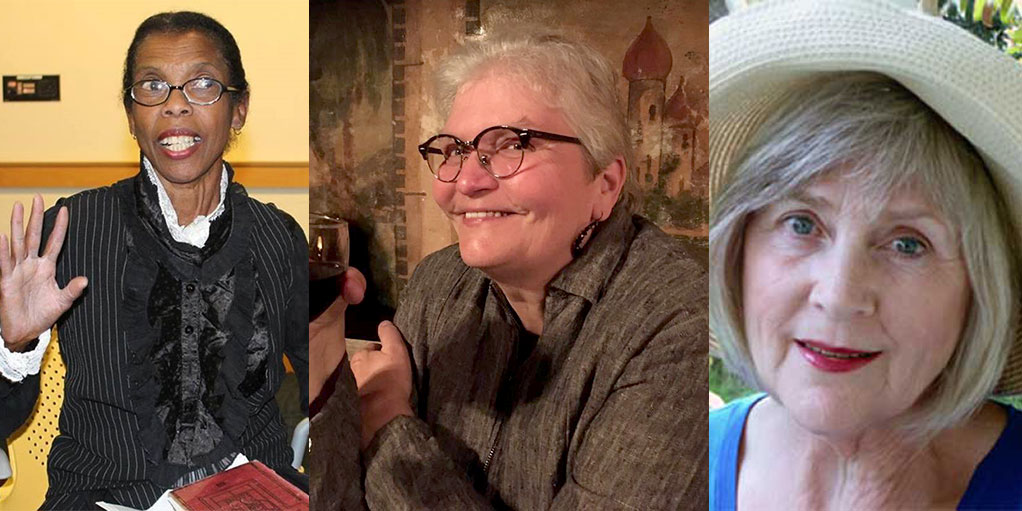 Join Poet in Residence Diane Funston and Friends
Yuba Sutter Arts & Culture is pleased to announce a new poetry series called Poetry Square. Poet in Residence Diane Funston has been a mainstay on the local spoken word scene since moving to Marysville five years ago with her husband, Roger. Diane has invited some of her poet friends to join her for a live Yuba Sutter Arts Facebook event on Thursday, September 17 at 7pm. Angela James, Daniel Moore, and Jennifer O'Neill Pickering will share their poetry and insights during these very unique times.
Diane Funston began writing poetry in middle school in her hometown of Rochester, New York. She is also a memoirist and is currently organizing a collection of her poems for publication. Diane has been published in various journals and anthologies in California and on the East Coast including Cabbages and Kings, GUTS, San Diego Poetry Annual, Snapdragon, Whirlwind, Sharp Piece of Awesome, Lift It Up, Summation, and Palettes and Quills, among others. She is also a Mosaic Artist and has some of her work available for sale at various Marysville venues. Diane holds a degree in Literature and Writing from CSU San Marcos with a minor in Sociology.
Angela James is a poet and storyteller steeped in the oral traditions of her family in the Caribbean. Her eclectic mix of poetry, stories, music, and motion appeal to a wide range of audiences. She elevates poetry into performance art by weaving it with stories, music, and motion. Angela's work has been published in the literary magazine, Sussuruss and in three collections – Personally, Random Pieces, and Words. She is a certified multi-disciplinary teaching artist and has been a judge for the California Poetry Out Loud competition in Yuba-Sutter.
Daniel Moore was born in Washington, D.C. and was raised in Lancaster, California in the high Mojave Desert. He studied English and creative writing under Stan Rice and received his Bachelor Arts degree from San Francisco State. He is a retired high school English and Special Education teacher. Daniel has written off and on since he was 15 and published a book: Writ: Forty Poems. He lives in Boron, California and attends weekly Tehachapi Mountain Poetry Group meetings.
Jennifer O'Neill Pickering is a literary and visual artist who has lived in Western New York and Northern California. Publications include Sacramento Voices, Tiger's Eye Journal, Consumes River Journal, and her writing is featured on the website, Restore and Restory: A People's History of the Cache Creek Nature Preserve. She is the editor of the Sable and Quill: The visual arts and the writing of writers who are also artists. Her new book is Fruit Box Castles: Poems from a Peach Rancher's Daughter. To keep up with other literary arts events to or to find out more about all arts events in the community, please go to www.yubasutterarts.org or like Yuba Sutter Arts on Facebook. You can also contact us directly at email@yubasutterart.org for updates.
Pictured above: Angela James, Diane Funston, Jennifer O'Neill Pickering