Pam Nowak Named "2018 Arts Educator of the Year"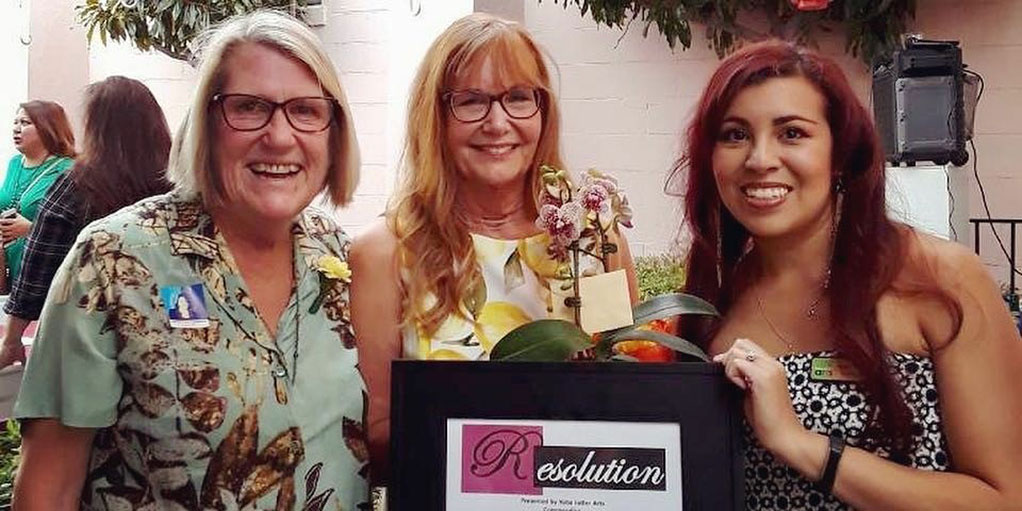 Yuba Sutter Arts is pleased to announce that the winner of its first annual Arts Educator of the Year award is Yuba City High School Art Instructor and Department Chair, Pamela Bleything-Nowak.  Pam was chosen by a committee of YSA staff, board members and local arts leaders.
An award program recognizing arts educators has been in the works for several years at YSA.  The opening reception of the current "Art Faculty Gallery Show" on Friday, September 14thwas the perfect opportunity to present Pam with the Award.  In addition, September 9-15 was National Arts in Education Week.  Pam received a Resolution from YSA and a gift bag filled with local wines and treats.
Many of Pam's students have gone on to take art classes at Yuba College where they have demonstrated a high level of skill and a love of art—both making art and looking at it with enthusiasm. Pam imparts an energy to the high school students.  She takes them on field trips to San Francisco, and closer to home, she takes them to visit CSU Chico and the Crocker Art Museum in Sacramento. Pam also orchestrates lively student shows each spring in the Gallery at Yuba Sutter Arts and supervises the AP portfolios of the students who seek college units for work produced in advanced high school classes.
"Our work with local art instructors which includes all of the arts – visual arts, music, literary arts and performing arts – is core to the mission of Yuba Sutter Arts," said David Read, Yuba Sutter Arts Executive Director. "Because of inspired arts educators and leaders like Pam, our community enjoys a robust arts scene both on and off campus," he added.
Sara Sealander, retired head of the Yuba College Art Department, said, "In meeting high school faculty members over the course of the last few years, I've realized how important Pam has been in her role as a supervisor of student teachers.  Many local art teachers are her former students or student teachers." She added, "I love that Pam's excellent teaching style is being shared with others."
For additional information, contact David Read at 530-749-8065 or email david@yubasutterarts.org.