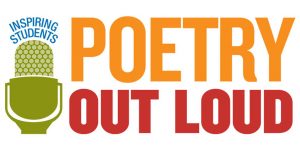 California Poetry Out Loud is open to high school students in all kinds of schools — public, private, parochial, independent, charter and home schooled students.
Poetry Out Loud builds on the recent resurgence of poetry as an oral art form, as demonstrated by the slam poetry movement and the immense popularity of rap music among our youth. The program encourages students, though the study of poetry, to master public speaking skills, build self-confidence, and internalize our rich literary heritage.
Poetry Out Loud uses a pyramid structure that starts at the classroom level. In California, winners advance to a school-wide competition, then to a county and possibly district competition, then to the state competition in Sacramento, and ultimately to the National Finals in Washington DC.
Each winner at the county level receives a trip to compete at the state capitol along with a dinner reception and a certificate of recognition from his or her legislative representative. Each winner at the state level receives $200 and an all-expenses-paid trip with an adult chaperone to Washington to compete for the national championship.