Synopsis – The festival will bring together filmmakers/directors who will create a script based on a subject chosen at random at the kickoff event and then will have 48 hours to complete their four to six-minute film.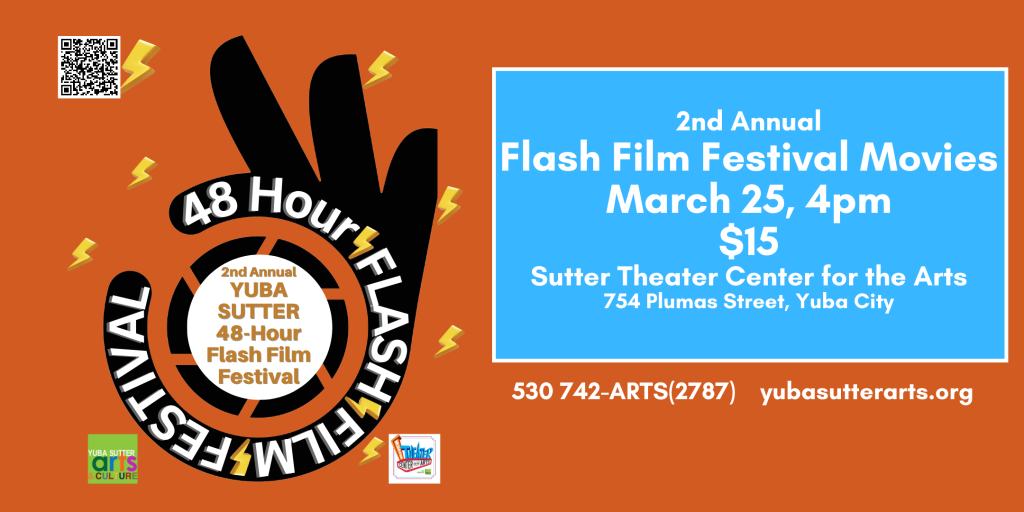 Local filmmakers have once again risen to the challenge of making a short film in just 48 hours. The second Annual Yuba-Sutter Flash Film Festival welcomed back some veteran filmmakers as well as some newcomers to this year's event. Now it's time to get everyone together and see what the teams created. During a random drawing, each team drew a theme, along with an object and a line of dialogue from a famous film that had to be incorporated into the film. Each film also had to comply with a time limit of 4-6 minutes.
Night of Terror
A Dark & Stormy Night
Your Worst Nightmare
Dog Days of Summer
Falling Through Time
Love Makes The World Go Round
A Day In The Life of an Influencer
All The World Is A Stage
A Fairytale Ending
There's One Born Every Minute
Journey In Time
Once In A Blue Moon
Fire & Ice
It's A Trap
Quit Bugging Me
Castle In The Sky
Sugar Cubes
Cowboy Hat
Rubber Chicken
Bathtub
Ping Pong Paddle
Corkscrew
Pizza Box
Lighter
Egg
Vinyl Record
Tea Pot
Rake
Pair of Red Shoes
Mittens
Box of Orange Jello
Red Candle Stick
Covid Test Kit
Tube of Pink Lip Stick
Toothbrush
Umbrella
If you're not with me, then you're my enemy – Star Wars, Revenge of the Sith
As if you could outrun me! As if you could fight me off! Twlight
You're killin' me Smalls. The Sandlot
I feel the need – the need for speed. Top Gun
Get in loser. We're going shopping. Mean Girls
Nobody puts Baby in a corner. Dirty Dancing
He can't see without his glasses! My Girl
You sit on a throne of lies. Elf
Hasta la vista baby! Terminator 2
No wire hangers ever! Mommy Dearest
I am serious. And don't call me Shirley. Airplane
I see you shiver with anticipation. Rocky Horror Picture Show (RHPS)
You'll shoot your eye out kid. A Christmas Story
Keep the change you filthy animal. Home Alone
1st Place Winner: "Harper Marie" – Directors Bethany Graham-Harris & Shon Harris
Theme: A Day in the Life of an Influencer; Object: Egg; Quote: "I see you shiver with antici…pation." RHPS.
---
2nd Place Winner: "Your Dreams Now in Color" by Directors Nathan Schemel & the Yuba College Crew
Theme: All the World is a Stage; Object: Covid-19 Test Kit; Quote: "If you aren't with me, you're my enemy." Star Wars: Revenge of the Sith.
---
3rd Place Winner: "Nightmare" by Directors Marti Brown and Sonja Skvarla
Theme: Your Worst Nightmare; Object: Vinyl Record; Quote: "Get in Loser. We're going shopping." Mean Girls.
---
Not Judged: "The Chicken King" by Director Arshya Abedi
Theme: It's a Trap!; Object: Rubber Chicken; Quote: "As if you could outrun me! As if you could fight me off!" Twilight.
---
Honorable Mention: "Horla" by Director Kevin Belcastro
Theme: Night of Terror; Object: Box of Orange Jello; Quote: "Nobody puts Baby in the corner!" Dirty Dancing.
---
Honorable Mention: "Ride by Me" by Director Madison McGrath
Theme: A Fairytale Ending; Object: Bathtub; Quote: "Keep the change! You filthy animal!" Home Alone.