Marysville Charter Academy for the Arts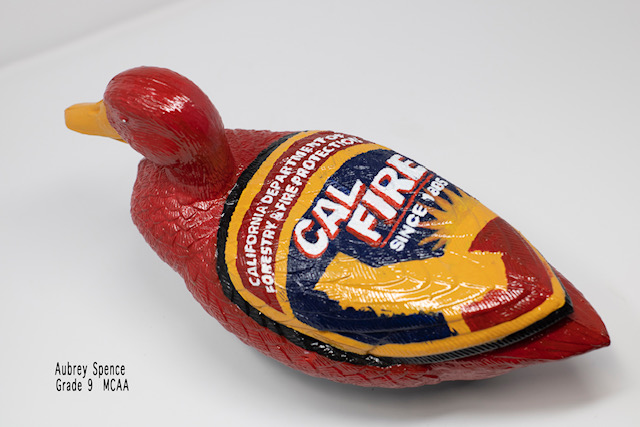 Student Visual and Literary Arts Presentation Featuring the "Fire Ducks"
Get ready for the first public showing of local art students' work since the start of the pandemic. Join Yuba Sutter Arts & Culture in collaboration with the Marysville Charter Academy for the Arts (MCAA) as they present a unique art exhibition and literary arts presentation the Gallery at Yuba Sutter Arts & Culture.
The exhibition will be multi-faceted with visual arts on display including the winning entries in the recent Congressional Art Competition, and literary arts represented by the MCAA Poetry & Prose Club members reading poems and excerpts from short stories. This is a one day "pop up" event to be held on Sunday, May 29 from 2-4pm in the Gallery at Yuba Sutter Arts & Culture, 624 E Street in Marysville. There is no cost for admission, and you will be able to enjoy our most recent "Umbrella Sky" Installation at no extra charge! Refreshments will be served.
The center piece of the show will be a series of unique and highly original painted duck decoys, dubbed the "Fire Ducks," that help bring awareness to the devastation caused by the fires in California. Students painted 45 ducks (think plastic hunting decoy ducks) to represent the fires and loss caused by wildfires in 2021. Each duck represents approximately 60,000 burned acres, as well as specific fires and the twenty-one Cal Fire operational units. The students all used the same color pallet; black, white, red, and yellow. Their ideas ranged from the chaos caused by fire – the evacuations, the fires themselves, the loss of property and general destruction and the environmental impact on the forest and wildlife.
Other student visual and literary artwork will be featured including entries in contests and juried shows like this year's Scholastic Art & Writing Awards and Congressman Garamendi's Congressional Art Competition. The top three winners in the latter competition were from MCAA and will be on display.
"We very much appreciate our partnership with MCAA and the extra effort the educators put in to make opportunities like these possible for their students," said David Read, YSAC Executive Director. "The work is remarkable and very original, and the students are so fortunate to have inspired teachers like Glen Weisgerber (visual arts) and Vanessa Ramirez (literary arts) as their guides," he added.