John Paris "Spring Is in the Air" Concert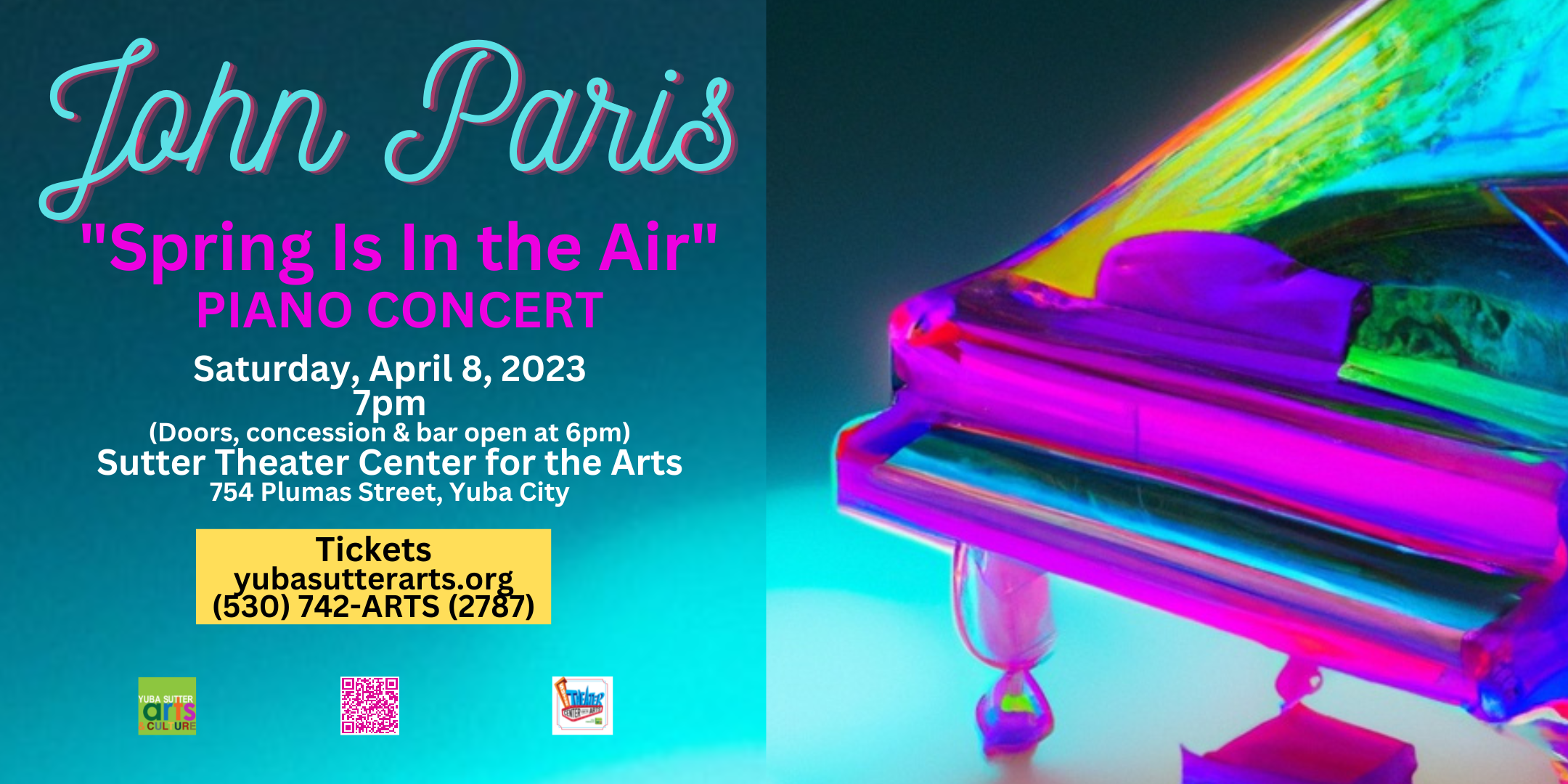 John Paris is returning to the Sutter Theater Center for the Arts with special guest Dr. Ayke Agus! This wonderful duo played together recently at a large benefit in March supporting young aspiring musicians in Oroville. The pair is sure to delight the audience here in the Yuba-Sutter area. The "Spring Is in the Air" concert will be held on Saturday, April 8th at 7pm at the Sutter Theater Center for the Arts, 754 Plumas Street in Yuba City. Doors, concession, and bar open at 6pm. Tickets are $20 and are available at yubasutterarts.org or at the door if space is available.
John Paris grew up in Northeastern Pennsylvania but has made his home here in Northern California for many years. Since 2004, John has recorded ten albums – New Age solo Piano music and joyful jazz recordings. John taught music and composition for Yuba City Unified School District for nearly two decades. He has graced the stages of the Grand Ole Opry and Carnegie Hall where he was presented awards for his musical talents.
Dr. Ayke Agus is a native to Indonesia and was recognized as a child prodigy at the age of 7 on violin and piano. Dr. Ayke Agus accepted a scholarship to Rosary Hill College near Buffalo, New York in 1969. She then accepted a scholarship into Jascha Heifetz Master Class at the University of Southern California. Heifetz is considered the greatest violinist of the 20th century. She continued to associate with him until his death in 1987 and has dedicated three decades to continuing the Heifetz legacy regarding his musical beliefs, principles, and musical ethics.
Yuba-Sutter Arts and Culture is humbled to provide a platform for these two renowned musicians. Bringing world class music to the Yuba-Sutter Area is a gift we are proud to contribute to our Northern California home.
"Even though our musical journeys are totally different, we mesh really well. I hope you will come to our concert in Yuba City, April 8, 7pm at Sutter Center Theater for the Arts." John Paris announced on his Facebook page in early March.
---
---