Gay Galvin's Jazz Jive Concert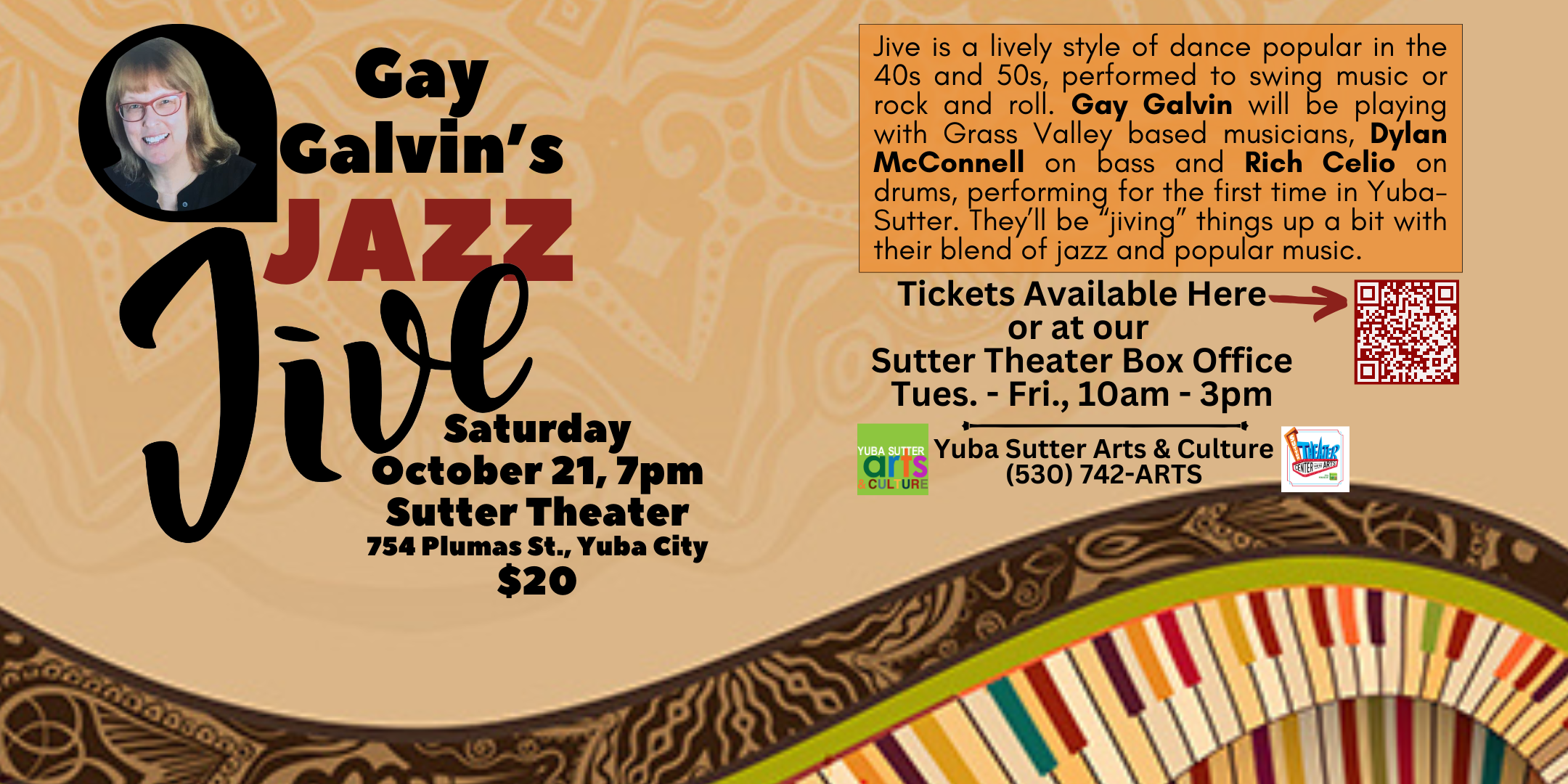 Live at the Sutter Theater Center for the Arts
The Gay Galvin Jazz Jive is really a jazz trio with alliteration. The diverse group met at a jazz jam in Grass Valley and came together again to work with Gay's husband, Tom Galvin, on his Upstate California Creative Corp grant to produce an album of original music about our area. The Jazz Jive group consists of Rich Celio on drums, Dylan McConnell on bass and Gay Galvin on keyboard and vocals. The concert will include many songs of the season including "The Autumn Leaves", "Moondance" and "Devil May Care" along with some jazz classics and originals, putting their own unique spin on it all.
The concert will be held on Saturday, October 21st at 7pm at the Sutter Theater Center for the Arts, 754 Plumas Street in Yuba City. Doors open at 6:30pm and the concert starts at 7:00. Tickets are $20 in advance and can be purchased at yubasutterarts.com or at the Theater from Tuesday through Thursday, 11-4. Tickets may be purchased at the door if available, but seating will be limited.
Jive is a dance style that originated in the United States from African Americans in the early 1930s. The name of the dance comes from the name of a form of African American vernacular slang, popularized in the 1930s by the publication of a dictionary by Cab Calloway, the famous jazz bandleader and singer. "Jive" was also an expression denoting glib or foolish talk by musicians playing swing music in the 30s and 40s. In competition ballroom dancing, the jive is often grouped with the Latin-inspired ballroom dances, though its roots are based on swing dancing and not Latin dancing.
Gay Galvin has been playing piano since she was six years old. Trained in classical and jazz styles, she has worked in big bands, musicals, jazz trios and various classical ensembles. Gay has performed in various ensembles throughout the community including concerts at Yuba College and in productions at The Acting Company. Gay and her musician husband Tom played for the Applause series of concerts to help raise funds for the completion of the Sutter Theater "Black Box" and now the community will reap the benefits of their hard work as she once again performs in the venue she helped create. She has played across most musical genres and in a variety of ensembles including some rock bands, but her heart belongs to jazz. Gay is also the musical director of the Yuba-Sutter Big Band. For additional information about this concert, contact Yuba Sutter Arts & Culture at email@yubaustterarts.org.
---
---