Free After School Art Classes for 7-14 Year Olds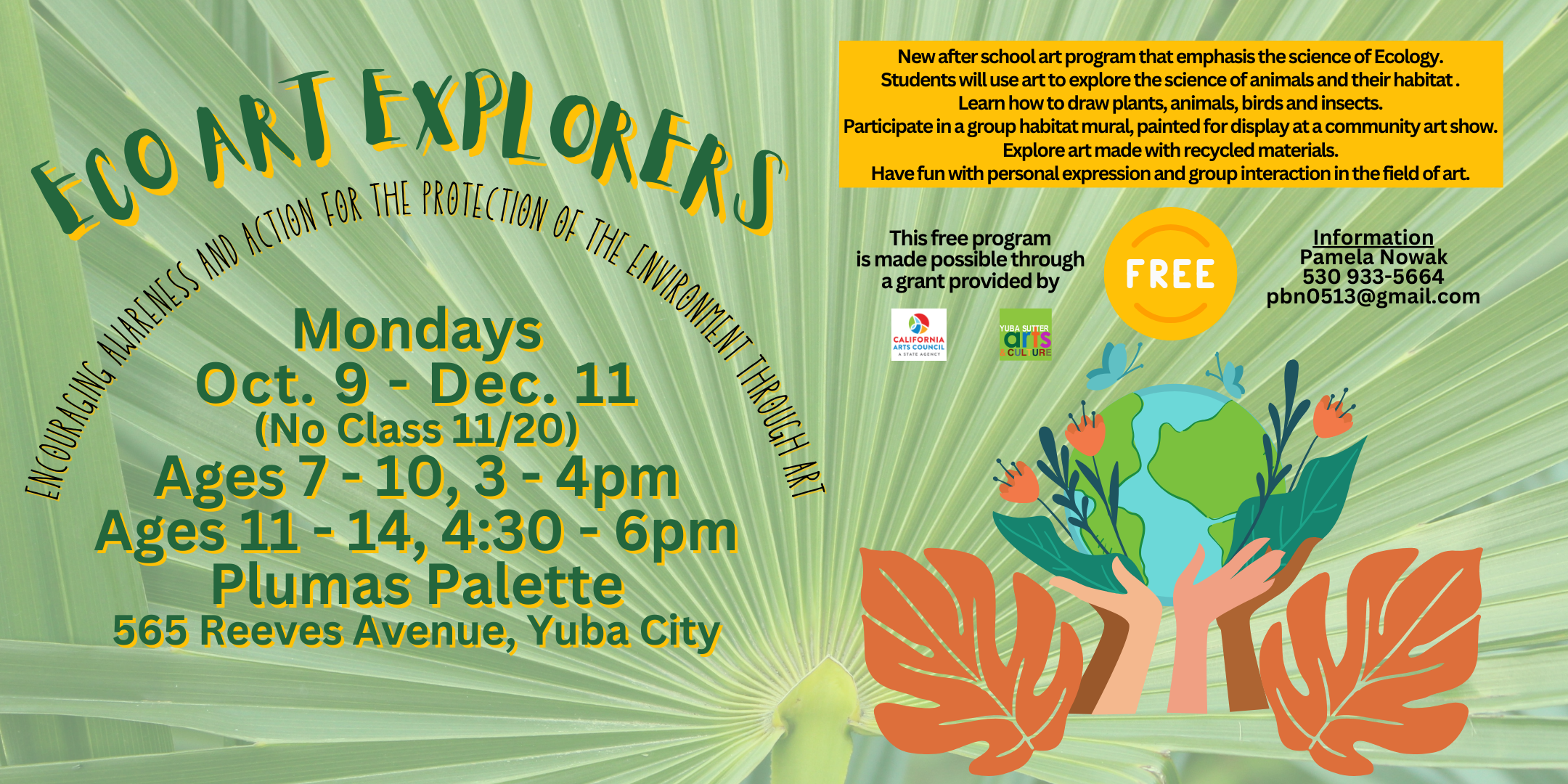 Eco Art Explorers and Sketchbook Club
Yuba Sutter Arts & Culture is pleased to announce that its very popular Sketchbook Club free after school visual arts program for students is up and running for the second year and is open for signups. And new this year is a second youth art program with a special environmental focus called Eco Art Explorers. Students will learn about art and urban ecology and the healthy results of green spaces. This class will use art as a jumping off point to explore green spaces with an effort to answer the question, "How does urbanization affect surrounding rural areas?" Students will study ecology, investigate benefits of the outdoors through art and develop advocacy toward protecting green spaces in our community.
Sketchbook Club and Eco Art Explorers are under the direction of local artist and arts educator, Pamela Nowak. Pam was an art instructor at Yuba City High School for over 25 years and recently retired. She gives her students excellent skills and a love of art—both making art and looking at it with enthusiasm and understanding.
Both programs are grant funded and will be held at the Plumas Palette Art Studio which is part of the Kalakara Artist Studio complex founded by Yuba Sutter Arts & Culture in 2019. The address is 565 Reeves Avenue in Yuba City. Eco Art Explorers meet on Mondays. 7–10 year olds meet from 3-4pm and 11-14 year olds from 4:30-6pm. Sketchbook Club classes for 7-10 years olds will be held on Wednesdays from 2-3pm and classes for ages 10-14 meet from 3:30-5pm.
Parents can sign up their students directly with Pam at pbn0513@gmail.com or by texting or calling 530-933-5664.  
Participants in Sketchbook Club and the Eco Art Explorers programs will learn various art skills all in a fun learning environment. Lessons will include projects using watercolors, oils, pastels, basic drawing techniques and more. Pam is also the special guest artist this month in the Theater Gallery at the Sutter Theater Center for the Arts. Stop by her opening reception on Friday, October 20 to meet her and see her latest opus called "Fancy Flights, a series of hummingbirds created using iridescent metallic watercolors.
"Being able to offer classes like this for young people free of charge is core to the mission of Yuba Sutter Arts & Culture," said David Read, Yuba Sutter Arts Executive Director. "These students will have an amazing experience working with Pam who is one of the reasons our community enjoys such a robust student arts scene," he added.
For additional information about the many Yuba Sutter Arts & Culture programs and events, call
530-742-2787 or write to email@yubasutterarts.org.