Veterans Pop-Up Art Café
March 6, 2021
at
2:00 pm
–
5:00 pm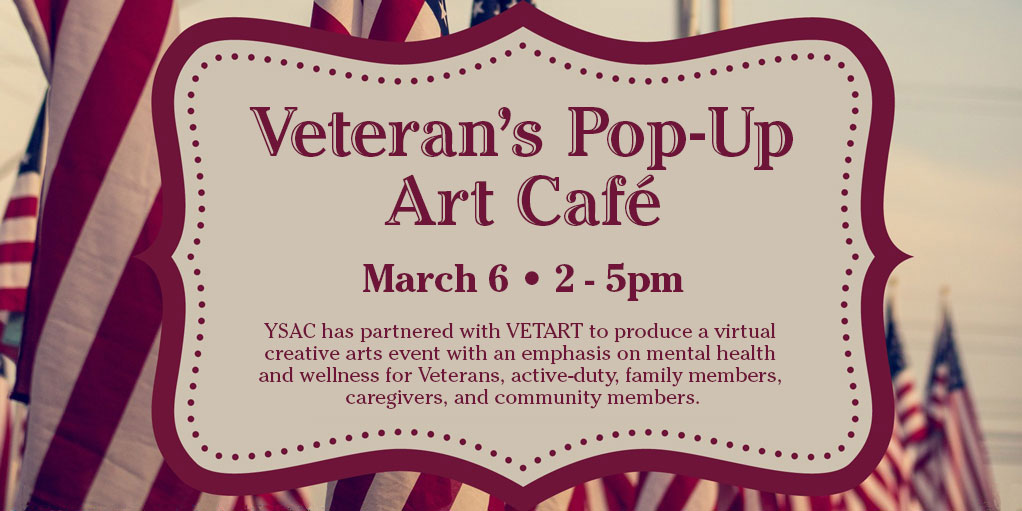 The Veterans Art Project (VETART) and Yuba Sutter Arts & Culture have teamed up to present a virtual Pop-Up Community Creative Arts Café, a curated and interactive live online event featuring Yuba-Sutter area artists who have served in the United States Armed Forces in addition to presentations from art and music therapists.
As part of the event, an invocation and land acknowledgement will be offered, along with a moderated listening session. The event is sponsored by the California Mental Health Services Oversight and Accountability Commission to provide wellness programs through various art forms for Veterans, active-duty military, family members and caregivers. It is a part of a statewide, creative arts engagement series of events in partnership with local arts agencies like Yuba Sutter Arts & Culture whose artists act as second responders to help find a creative way to offer healing of another kind.
The free event will be live streamed on Saturday March 6thfrom 2-5pm. The link to register online is: https://pheedloop.com/VETARTcafewithYSA/site/home/.
In collaborating with local communities across the state of California to produce the Pop-Up Cafés, VETART and its local partners will introduce both professional artists and the mental health resources available to our Veteran community. Event attendees will hear directly from the artists about the process of artmaking and the ways the arts have directly improved their health, sense of community and belonging, restored a connection to having hope and purpose, and to find a means of expression as part of their healing journey. Genres of art include ceramics, traditional beadwork, spoken word, music, painting, and photography. Resources to holistic mental health services will be shared.
Local Veteran artists presenting at the event include Navy and Army Veteran, Aaron Burks (visual arts), Air Force Veteran, Chris Thompson (ceramics), Navy Veteran Joe Moye (music, theater, poetry, chalk art), Army Veteran Bert Johnson (oil painting and music), Air Force Veteran Brian Shul (photography) and Army Veteran Luis Gonzalez (art major at Yuba College).
With each regional event, local agencies, service providers, nonprofits and Veterans groups are encouraged to connect with one another and to explore how the arts can be promoted within their immediate communities. The Pop-Up Cafés are designed to engage dialogue, foster networking and to speak directly to the unique experiences and mental health challenges of the extended Veteran community in these challenging times.
The results of the Pop-Up Cafés will be shared with the Behavioral Health Services of the Counties where the events take place as well as to Boards of Supervisors, State and Federal Representatives and Senators, the Governor, Art Boards, the Press, and others including post-secondary educational entities, Veteran service agencies, Veteran service officers, and Certifying officials. The 2021 partnerships include the California Counties of San Diego, Yuba-Sutter, Butte, Tulare, Los Angeles, Alameda, and Sacramento, and the program will extend into 2022 and 2023.
"We are excited to be able to offer one more opportunity for our local Veteran community and extended military family to be part of an art project during these difficult times," said David Read, Executive Director of Yuba Sutter Arts & Culture. "It is hoped that by discovering new and readily available artistic processes, Veterans can connect with a whole new area of health and wellness and healing," he added.
For more information about other 2021 programs during our 40thanniversary year, contact Yuba Sutter Arts at 530-742-ARTS or email david@yubasutterarts.org.
About the Veterans Art Project (VETART)
The Veterans Art Project (VETART) is a community-based arts organization serving Veterans, Active Duty, Spouses, dependents, their caregivers, and the community through process-driven, Deep Arts Engagement, D.A.E.(c) and Art Therapy. D.A.E.(c) with Art Therapy options provides a process-intensive arts encounter proven to help Veterans and Active-Duty personnel (some with post-traumatic stress, TBI, and MST) find their voice and work through the life-changing process of transitioning from military to civilian life. VETART offers free classes in the process-heavy art disciplines of Ceramics, Glass, Woodworking, and Bronze Casting. VETART works tirelessly to connect military families and civilians through sharing artmaking in a safe, welcoming, relaxed, and fun environment.
About California's Mental Health Services Oversight & Accountability Commission (MHSOAC)
The Commission works through partnerships to catalyze transformational changes across service systems so that everyone who needs mental health care has access to and receives effective and culturally competent care.
Related Events