The Multi-String Guitar Ensemble
March 23, 2019
at
7:00 pm
–
9:00 pm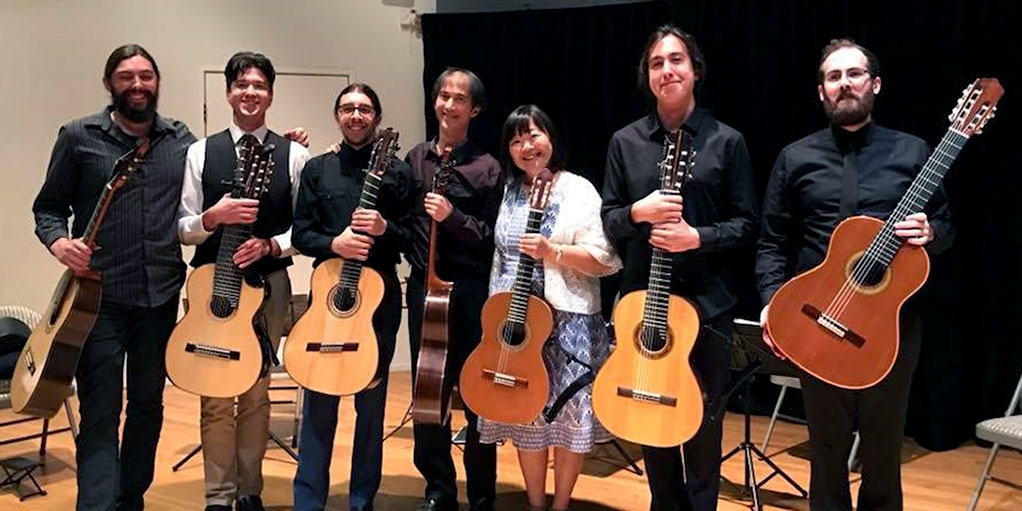 What's better than one world class guitarist playing a six-string classical guitar? Seven classical guitarists playing a total of 52 strings, that's what. Fortunately, The Multi-String Guitar Ensemble have been playing together for some time so there won't be any professional rivalry exhibited on stage. It's kind of like that old joke: "How many classical guitarists does it take to change a light bulb? Answer – Ten. One to change the bulb and nine to tell you how they would have done it better."
Yuba Sutter Arts wants to help change the way you think about classical guitar. The community is in for a treat when it welcomes The Multi-String Guitar Ensemble to its Burrows Theater stage on Saturday, March 23rd at 7pm. Admission is only $15, and students may attend for free. (A $1 fee will be added to online ticket sales.)
This concert will showcase the rich sounds of some very unique instruments; 7- and 11-string guitars that expand the beauty of the classical guitar aesthetic. The program includes original compositions and arrangements of timeless jazz, and pop and some classical masterworks as well for various combinations of instruments and voice from solo to septet. The program will be diverse, eclectic, philosophical and maybe even a little educational.
The Multi-String Guitar Ensemble includes musicians Robert Camilo – alto extended 7-string guitar, Matthew Foley – extended 7-string guitar, Matthew Grasso – extended 7-string guitar, Miyan Grasso – extended 7-string guitar, Sean O'Connor – 11-string alto guitar, Harry Stoddard – 7-string guitar, Aya Ueda – soprano, mezzo guitar.
Founding member Matthew Grasso is a classical guitarist, composer and arranger, a musical instrument innovator and improviser who began playing guitar at the age of twelve. He attended the San Francisco Conservatory where he studied with Scott Tennant and Dusan Bogdonovic and was in master classes with Eliot Fisk and the L.A. Guitar Quartet. Mathew further complemented his training by studying the classical music of North India at the Ali Akbar College of Music with the late sarod master Ustad Ali Akbar Khan. Currently, Matthew is on the faculty at Sacramento City College, Yuba Community College and American River College and teaches privately as well.
Matthew says, "One performance is worth ten lessons. And you must love every note you play, whether a simple exercise, a single note or a composition…it is all the same."
Yuba Sutter Arts
(530) 742-2787
email@yubasutterarts.org
Related Events
Who's coming?
3 people are attending The Multi-String Guitar Ensemble