One Eyed Reilly in Concert
March 16, 2019
at
6:00 pm
–
10:00 pm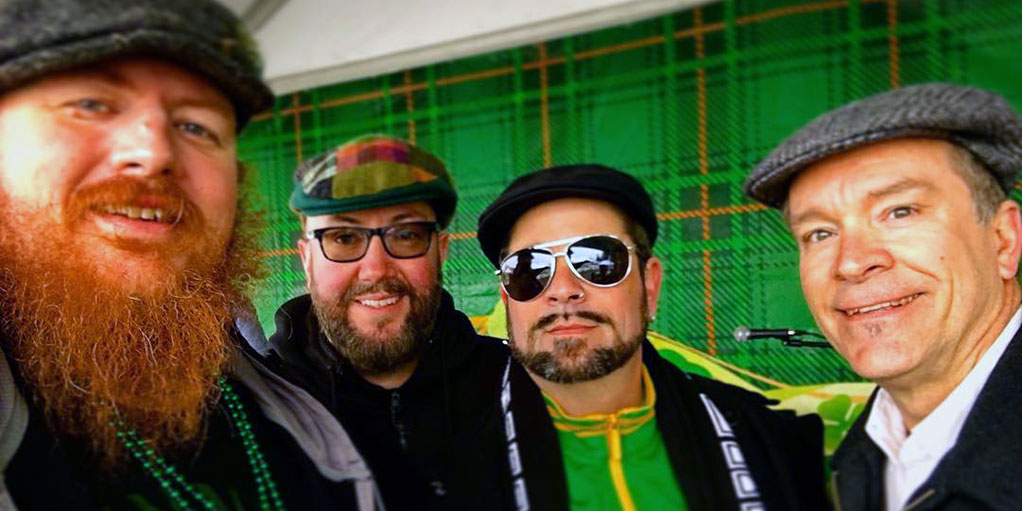 The Ultimate St. Patrick's Day Eve Event in Yuba-Sutter
Join Yuba Sutter Arts as it welcomes back Northern California's ultimate Irish music band, Sacramento's own One Eyed Reilly. The party starts at 6pm on Saturday, March 16th at Justin's Kitchen, 628 Plumas Street in Yuba City. The evening includes a full "all you can eat" Irish buffet with corned beef, cabbage and potatoes, Irish stew and a special Irish dessert (do you see a theme developing here?).
Singer/songwriter Tom Galvin will get the musical festivities underway and then One Eyed Reilly will "strike up the band" at 8pm. The cost for dinner and a show is only $25 in advance or $40 at the door (a $1.50 service charge will be added to online ticket sales). Irish Coffee, Irish Whiskey, drink specials and all your other favorite beverages will be available for purchase. Tickets are expected to sell out so order in advance at yubasutterarts.org.
If you haven't heard them before, One Eyed Reilly is a Celtic/Americana rock band that blends some original songs with modern Celtic rock, Americana, and energetic, innovative versions of traditional Irish and Scottish classics. Their original music draws upon musical influences from The Clancy Brothers, The Chieftains, and The Dubliners, to Flogging Molly and The Waterboys. They infuse their live performances with occasional unexpected nuggets ranging from Bob Dylan to John Prine to Tom Waits, Wilco and the Old Crow Medicine Show. It's a genre-bending free-for-all that sets the perfect foundation for a really good time.
One Eyed Reilly formed shortly after St. Patrick's Day 2012, but the members have been honing their musician-ship for many years leading up to their fortunate convergence. Lead singer and rhythm guitarist Rick Meagher comes from an Americana singer/songwriter background, but with a father who is 100% Irish and a grandmother born in County Cork, One Eyed Reilly is the natural culmination of his musical journey. Classically-trained violinist St. John Fraser brings his considerable size and talent to bear with his ridiculously inventive and creative fiddle playing — mixing multiple styles and techniques in a red-bearded, frenzied attack. The band is rounded out by Aaron Hendel on bass and electric guitar and Tim Kurteff-Schatz on drums/percussion. Together it all adds up to a beer-drinking, foot-stomping, hand-clapping celebration that will have you hoisting a pint and bellowing "Sláinte" (pr. SLAHN-chə) ! That's Irish Gaelic for "Good Health!"
And just as a reminder, Saint Patrick's Day, or the Feast of Saint Patrick is a cultural and religious celebration held on March 17th, which marks the passing of Saint Patrick (c. AD 385–461), the foremost patron saint of Ireland. According to tradition, Patrick converted the pagan Irish to Christianity. Patrick's efforts against the pagans were eventually turned into an allegory in which he drove the "snakes" out of Ireland. In fact, Ireland never had any snakes. St. Patrick's Day, while not a legal holiday in the United States, is nonetheless widely recognized and observed throughout the country as a celebration of Irish and Irish-American culture. Celebrations include prominent displays of the color green, religious observances and numerous parades. It has been celebrated in North America since the late 18th century.
Come out for what promises to be a fun evening and get a jump on the St. Patrick's Day festivities.
Tickets