Look at Us, Yuba-Sutter | Entry Deadline
June 1
at
5:00 pm
–
September 19
at
5:00 pm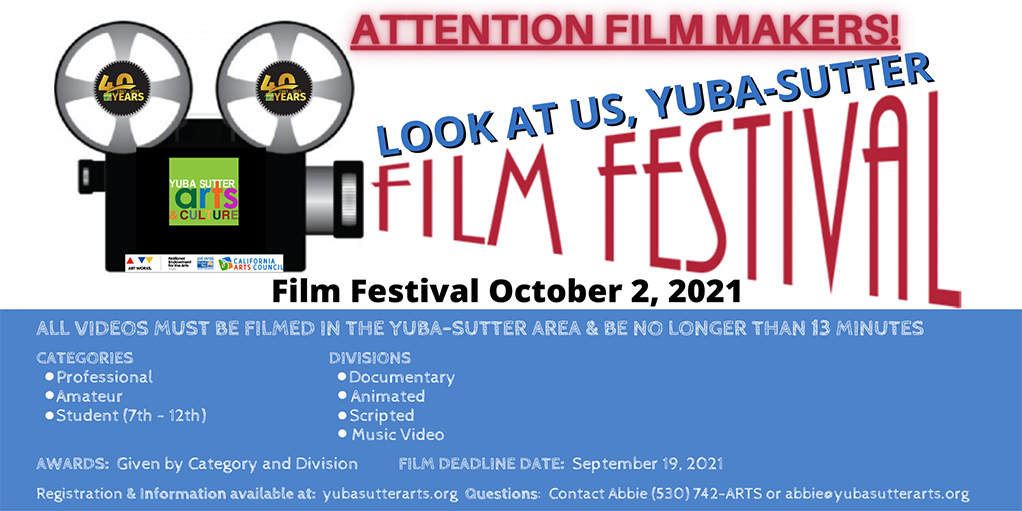 Entry Deadline is September 19
The Sundance and Cannes Film Festival are the ones most everyone has heard of, but how about a film festival for Yuba-Sutter? Yuba Sutter Arts & Culture is pleased to announce the first ever, short film festival focusing on Yuba and Sutter counties. Titled "Look at Us, Yuba-Sutter," the festival will feature films that are 13 minutes or less in length and that have all been created locally.
So why a film festival? The cinematic arts have become more and more accessible for everyone over the years as the technology is readily available to anyone who wants to tell a story using this artistic medium. The short film format seemed like an ideal way to create a program by providing a prompt for local amateur or professional filmmakers to demonstrate their cinematic visions and then be recognized at a public event. The brainchild of City of Yuba City Councilman Shon Harris, the idea is to focus on our community and channel the collective creativity of our residents.  
"I really wanted to offer a challenge to local creative folks to come up with a cinematic way to document what makes our area so special like the people, places, events and our history," said Shon. "Fully acted or documentary films and even way-out-there animated films are welcome, as long as they are family friendly," he added.
There are three filmmaker categories: Student (7th– 12thgrades), Amateur and Professional.  Film genre categories includeAnimation, Documentary/Mockumentary, Scripted/Fictional, and Music Video.  Cash prizes will be awarded for Best Student Film, Best Amateur Film and Best Professional Film all regardless of genre.  In each case, first place winners will receive $200, second place winners will receive $100, and third place winners will receive $50.  In addition, a People's Choice Award will be given for $100 and a Judge's Choice Award for $100. Films will be judged based on engaging and interesting stories, camera technique, understandable audio, thoughtful lighting and editing transitions and use of music to create mood. Complete Festival Guidelines can be found at yubasuttterarts.org. 
The deadline to enter is September 19, 2021. Go to yubasutterarts.org to download a participation form. Email your form and film in an MP4 format to abbie@yubasutterarts.org. You may also upload your film to your Google Drive with the share rights set to "anyone with the link can view", then email the link to abbie@yubasutterarts.org.The public Film Festival is scheduled for Saturday, October 2, 2021. The length of the Festival will be determined by the number of entries received. "Lights, camera, action!"
Related Events