Flash Film Festival – Informational Meeting
At the Sutter Theater Center for the Arts
August 8
at
6:00 pm
–
7:00 pm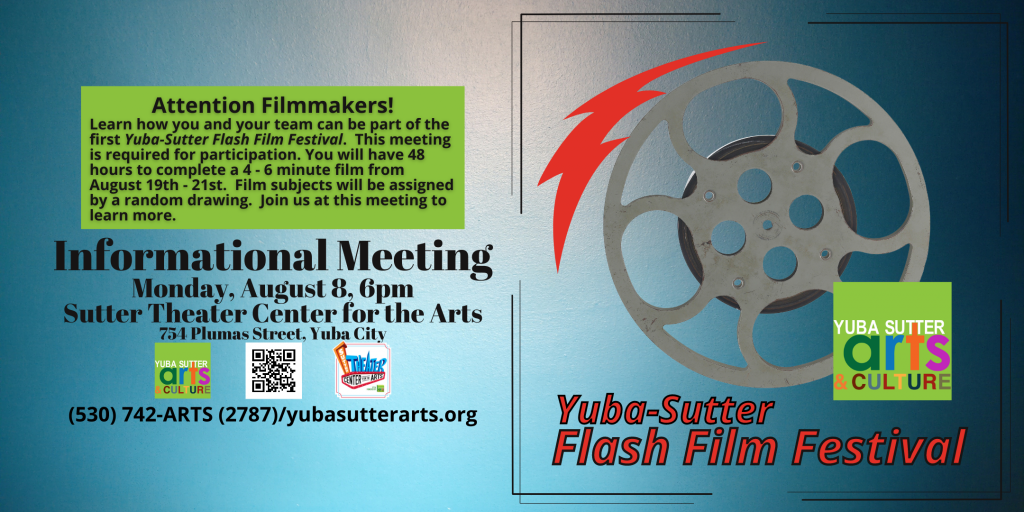 The first annual Yuba-Sutter Flash Film Festival will bring together local teams of filmmakers, directors, scriptwriters, actors, and crew who will create a film based on a subject chosen at random at the kickoff event. All types of artists/creators needed.
Filmmakers, Writers, Actors, Various Crew, etc. You are invited to come in as individuals to the meeting.
They will then have 48 hours to complete their four to six-minute film. A preliminary information session, a presentation will be made about guidelines for the YS Flash Film Festival and there will be a question-and-answer session for all interested filmmakers in attendance.
Film creation for the Flash Film Festival will occur between Friday, August 19 starting at 6pm and Sunday, August 21 at 6pm. All films received will be screened at a festival style event in September.
---
---
Related Events