CALL TO MARIACHI INSTRUCTORS
March 3
at
8:00 am
–
April 1
at
5:00 pm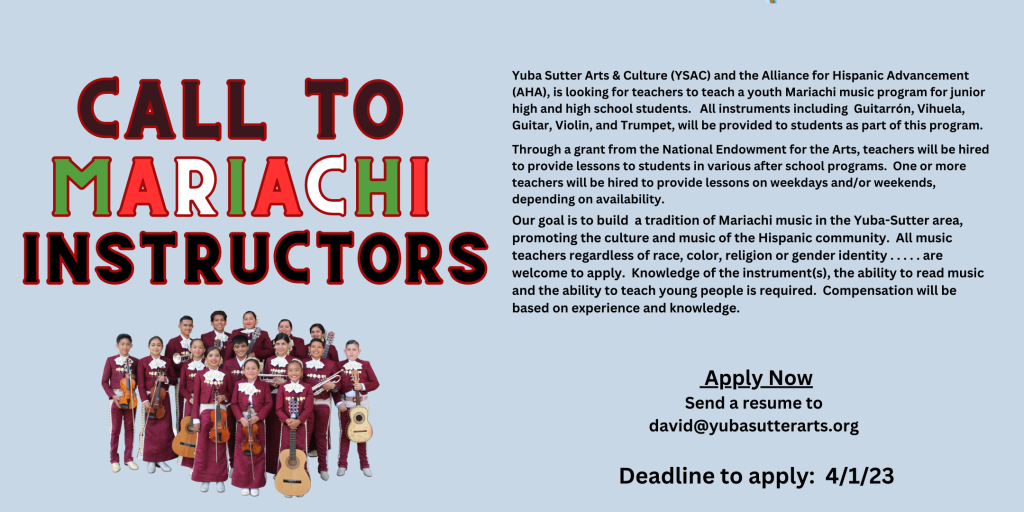 Yuba Sutter Arts & Culture (YSAC) and the Alliance for Hispanic Advancement (AHA), is looking for teachers to teach a youth Mariachi music program for junior high and high school students. All instruments including Guitarrón, Vihuela, Guitar, Violin, and Trumpet, will be provided to students as part of this program.
Through a grant from the National Endowment for the Arts, teachers will be hired to provide lessons to students in various after school programs. One or more teachers will be hired to provide lessons on weekdays and/or weekends, depending on availability.
Our goal is to build a tradition of Mariachi music in the Yuba-Sutter area, promoting the culture and music of the Hispanic community. All music teachers regardless of race, color, religion or gender identity . . . . . are welcome to apply. Knowledge of the instrument(s), the ability to read music and the ability to teach young people is required. Compensation will be based on experience and knowledge.
---
Apply Now
Send a resume to
Deadline to apply: 4/1/23
---
Related Events