Battle of the Peace Officers
May 15, 2019
at
6:00 pm
–
7:30 pm
Yuba Sutter Arts' Citizen Artist Event
Once again, we are gathering together a stellar cast of "Citizen [non] Artists" for this year's event. And to make it even more fun than ever, we've built in an extra element, a "Battle of the Peace Officers Challenge." We will count on that good-spirited bi-county rivalry and call on those who keep us safe to let loose their creative energies and show us what they've got (or lack) in terms of artistic talent. Remember, the qualifying factor in becoming a member of this exclusive "club" is that the participants must be able to exhibit an absolute lack of any actual artistic talent.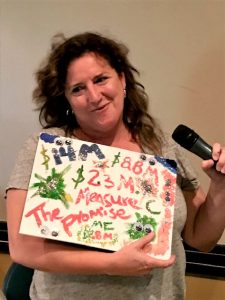 Come cheer on local law enforcement officers and other community leaders and arts supporters including Chris Sachs – Marysville Chief of Police, officers from the Sutter County Sheriff's Department, other officers from the Marysville Police Department, members of the Yuba City Police Department along with Marti Brown – Marysville City Manager. Other law enforcement agencies are invited to join. Contact Chief Sachs or Yuba Sutter Arts to sign up for the fun.
This year's event will be held on Wednesday, May 15 at Ting's Refuge in Yuba City starting at 6pm.
You will be invited to observe and encourage your favorite Citizen Artists as they each create one or several one-of-a-kind masterpieces. Tickets are $10 in advance or $15 at the door. Admission includes appetizers, a glass of wine, desserts and a floorshow featuring the Citizen Artists. The completed "works of art" will be auctioned off to the highest bidders. A special award is offered to the artist whose work fetches the highest price at auction that evening. All proceeds will support the YSA's bi-county burgeoning community arts programs and especially its"Arts in Education" initiatives.
Salvador Dali said, "A true artist is not one who is inspired, but one who inspires others." All the Citizen Artists are inspirations to others based on their leadership in the community and selflessness for a variety of causes.Come join in the fun and help support the Arts in Yuba-Sutter!
Related Events