American Indian Program Student Art Show
Recurring event
see all
September 27
at
1:00 pm
–
5:00 pm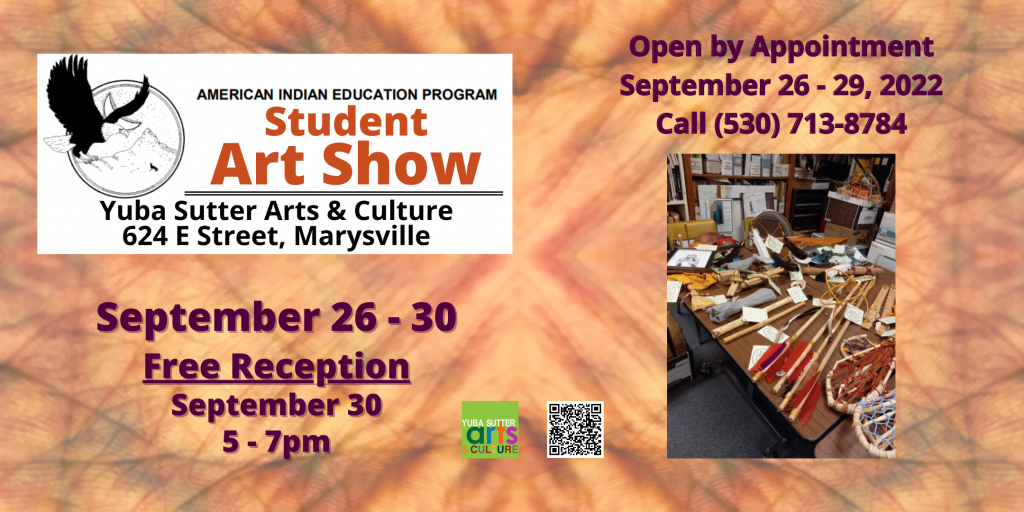 The American Indian Program is an much needed and important program.
With over 40 different tribes represented, the American Indian Education Program of Marysville serves approximately 1,000 American Indian students in the Yuba-Sutter Bi-County area. The majority of our students are of Cherokee, Choctaw, or Maidu descent.
Parents, students, teachers, counselors or administrators can request our services. We serve Native American students in grades Pre-school, TK-12 in the Yuba-Sutter bi-county area enrolled in various school districts.
The goal of the American Indian Education Program of Marysville is to provide students with the opportunity to become engaged in the educational process by:
mastering basic skills
becoming knowledgeable about their cultural heritage
strengthening their ability to make good choices for their future
Yuba Sutter Arts & Culture is proud to be partnering with Pat Bennett, Supervisor of the American Indian Program, to give Native Students a space to showcase their work at the Yuba Sutter Arts Gallery at 624 E Street in Marysville, CA.
The Gallery Exhibition will be available to view from September 26-30; OPEN ONLY BY APPOINTMENT OR AT THE SEPTEMBER 30TH OPENING RECEPTION FROM 5-7PM!
A free Gallery Reception will be held on September 30th from 5-7pm.
Related Events