Convergence Theatre Company Presents "Roe"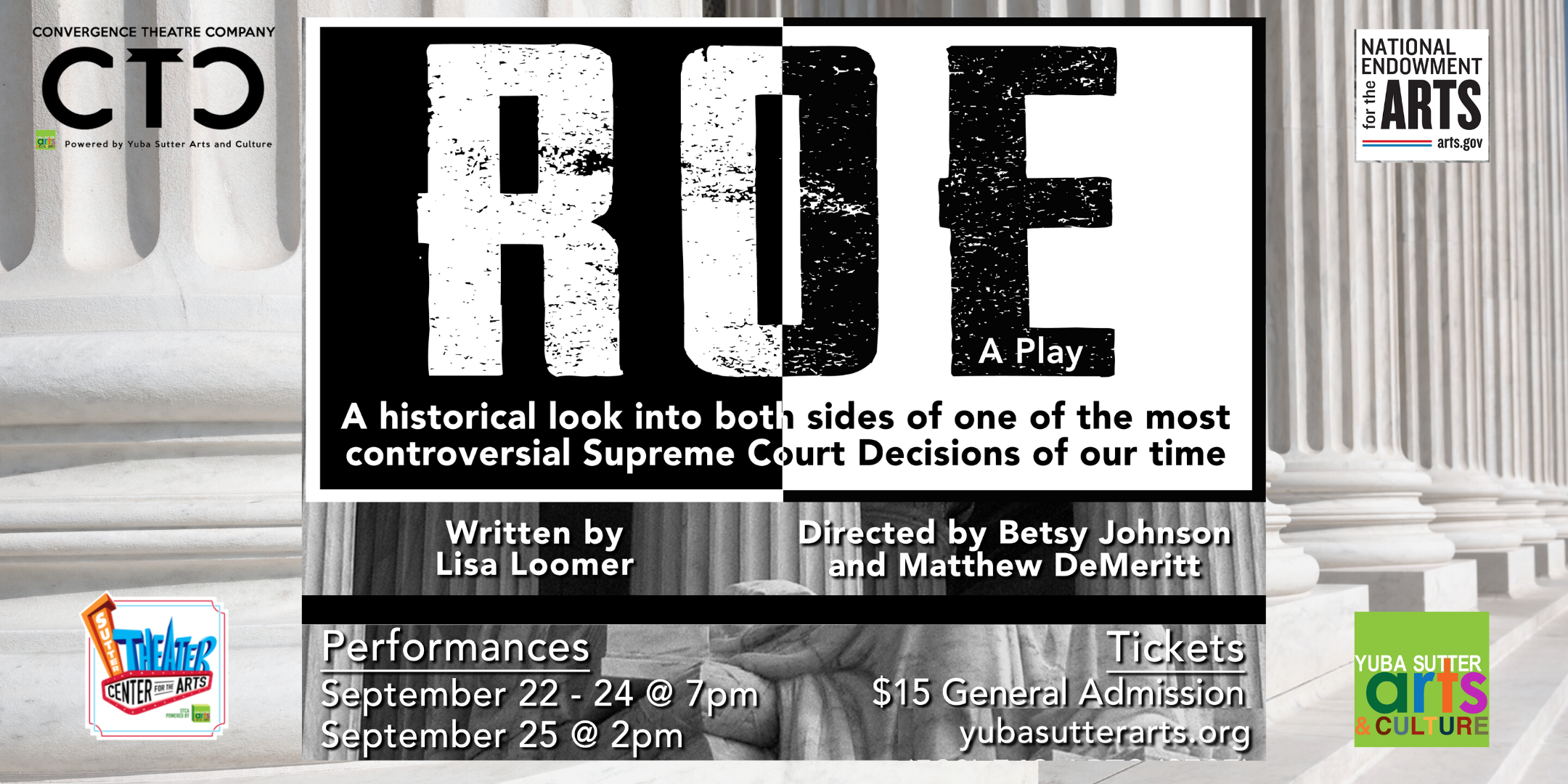 What is the place of theater in the conversation around the important social issues of the day? Other than the economy, few topics generate more debate than that of abortion. Pro-life or pro-choice, that is the question? Most people have very strong feelings about the subject.
Convergence Theatre Company, Yuba-Sutter's new performing arts organization, will present a play all about the story behind the story of Roe v. Wade in its production of the timely and award-winning play, "Roe." This production is made possible by a generous grant from Yuba Sutter Arts & Culture and the National Endowment for the Arts. Opening on Thursday, September 22nd at 7pm, the show will be presented at the Sutter Theater Center for the Arts, 754 Plumas Street in Yuba City. Additional performances will be held on September 23rd and 24th at 7pm, with a matinee performance on Sunday, September 25th at 2pm. Doors open 30 minutes before the curtain. Come out and enjoy important, professional theater in Yuba-Sutter.
About the play: Roe v. Wade, the landmark 1973 case that legalized abortion, is still fiercely debated nearly 50 years later, especially considering the recent Supreme Court decision. In this incisive play, acclaimed writer Lisa Loomer cuts through the headlines and rhetoric to reveal the divergent personal journeys of lawyer Sarah Weddington and plaintiff Norma McCorvey ("Jane Roe") in the years following the fateful decision. In turns shocking, humorous, and poignant, "Roe" reflects the polarization in America today while illuminating the heart and passion each side has for its cause. The play was first performed at the Oregon Shakespeare Festival in 2016 and has since been performed innumerable times nationwide.
Following a production in the nation's capital, Nelson Pressley wrote in his review for the Washington Post," "[ROE is] a useful primer—embroidered by the emotional, religious, and political motivations of its adherents and opponents—on one of the most durably contentious subjects of our time. With abundant care, the playwright refracts the complexity of abortion rights through the personal prisms of two emblematic real-life characters…[an] admirably probing play…"
Director Matthew DeMeritt said, "Audiences should check their opinions at the door and enter the show with an open mind." He added, "The play does not take sides but finds the humanity in each character and invites a compassionate look at the opposing viewpoints."  The play includes an all star cast and is co-directed by Betsy Johnson. 
Get your tickets by heading to our events section!
Convergence Theatre Company encourages performers of all ethnicities, genders, beliefs, identities, and ages, as well as performers with disabilities to be part of its new production company and to help facilitate balanced, productive conversations in the Yuba-Sutter community.