Celebrate the 9th Annual Harvest the Arts Festival at J. Heier Farms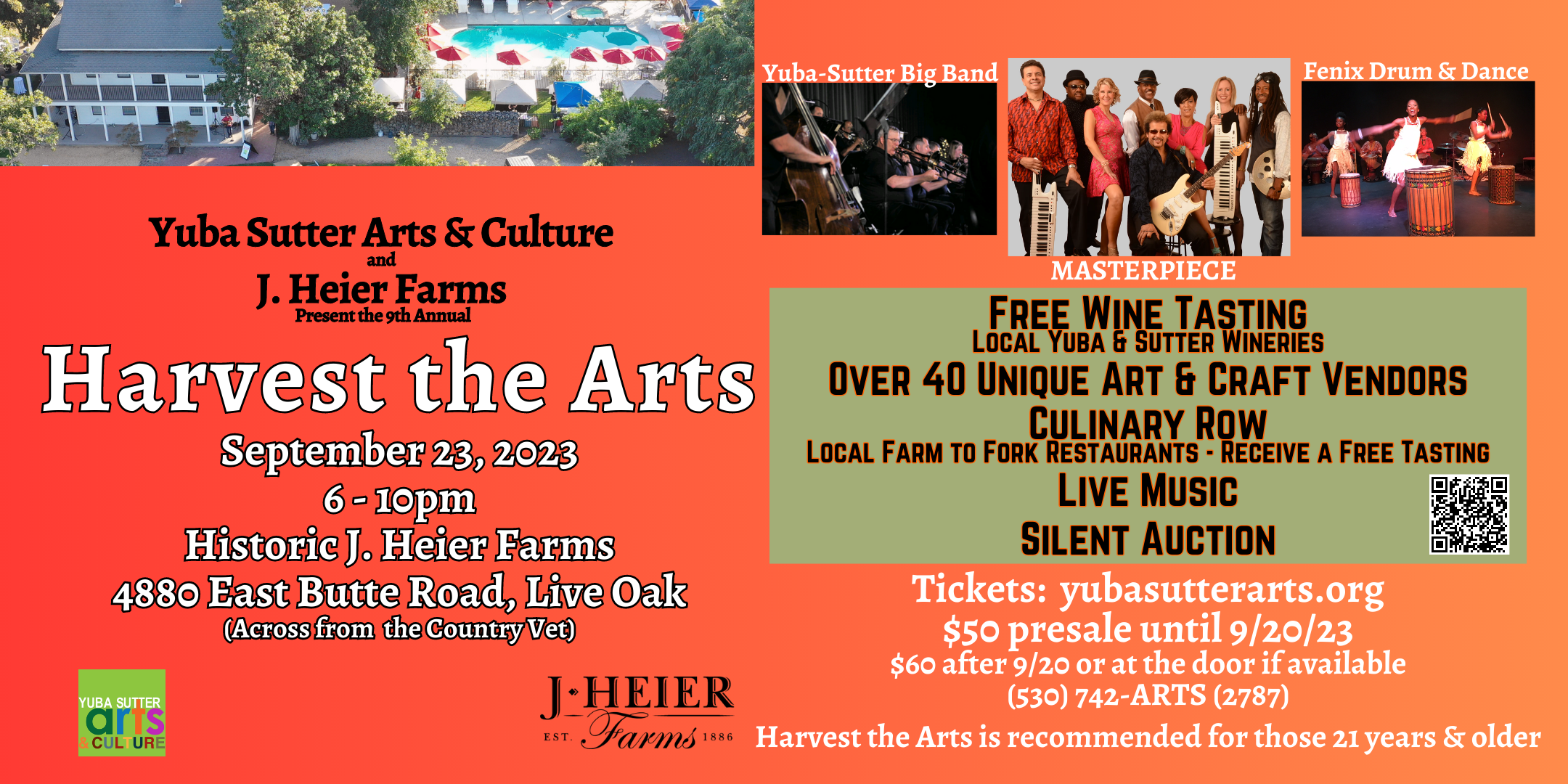 Have you ever been to the biggest outdoor art festival in Yuba-Sutter which also showcases locally produced foods prepared by hometown chefs? Yuba Sutter Arts & Culture is pleased to announce that its signature event, Harvest the Arts, is back. Following a three-year hiatus due to the pandemic, it will celebrate the 9th annual Harvest the Arts party on Saturday, September 23rd from 6-10 pm at historic J. Heier Farms, 4880 E. Butte Road in Live Oak across from the Country Vet. Once again, the Harvest the Arts team is bringing together local farmers, artists, restaurants, musicians, wineries, and the entire community to help raise funds for arts programs throughout Yuba and Sutter Counties.
---
---
Each year Harvest the Arts brings together the beauty of the farmlands that surround us, the Sutter Buttes that are the background for the event and artistic expression in its many forms including live music. Harvest the Arts showcases visual artists, a silent art auction, three music groups and local food and wine tastings all amidst the orchards at J. Heier Farms, a working ranch in northern Sutter County.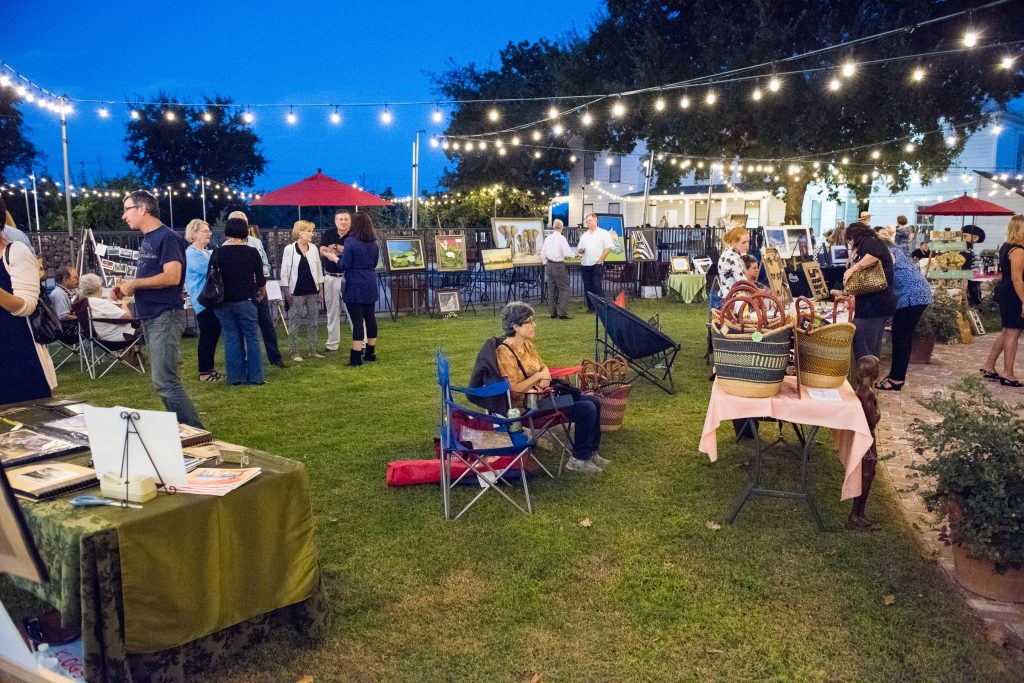 Live music will kick off with the Yuba-Sutter Big Band Jazz Orchestra. They will get the crowd up and dancing to classics from the American Song Book. The Big Band will be followed by the Fenix Drum and Dance Company which will put on a high energy show featuring traditional music and dance from West Africa and the Caribbean. The entertainment headliners will be Masterpiece, a Bay Area based party band that plays pop, soul, funk, R&B, Jazz, and Rock from the 60s to the 90s along with some current hits as well.
You will enjoy an expanded "Culinary Row" where local restaurants will be serving farm-to-fork items from their menus. Dancing Tomato, City Café, Erma Jean's Southern Cuisine, and others will be on hand to tickle your taste buds. All three Sutter County-based wineries along with several of the Yuba County foothills wineries will be providing tastings of a variety of their wines. And, yes, there will be beer. And in keeping with tradition, you'll be invited to join the celebratory "toast" as the sun sets behind the Sutter Buttes at 7:02pm.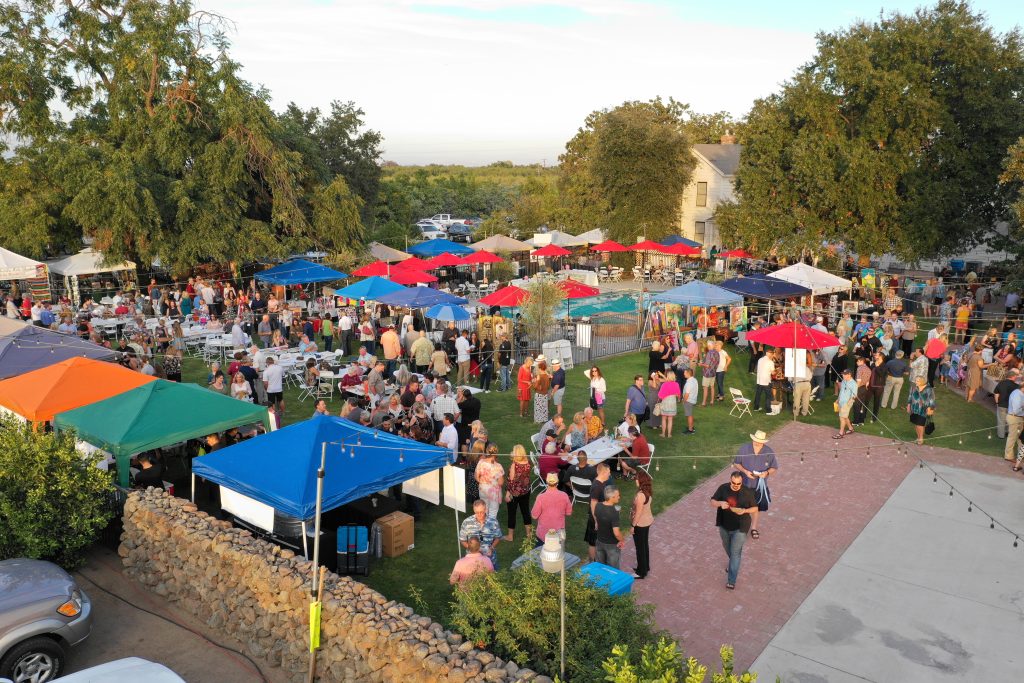 Over 40 artists will be on hand to show off their latest work. These include palette knife painter Mary Ann Nation, indigenous bead artist Jesse Harris, hand sculpted polymer jewelry maker Yasmeen Alfaqeeh, ceramic artist Elizabeth Hexburg, nature photographer Jonathan Beth, wood artist Sew Sawdust, and many more.
Ticket prices for Harvest the Arts are $50 each in advance or $60 after September 20. The ticket price includes wine and food tastings. Glasses of wine and additional food are available for purchase. Tickets may be purchased online at yubasutterarts.org or in person at the Sutter Theater Center for the Arts, 754 Plumas Street in Yuba City Tuesday through Friday from 10am – 3pm. Sponsorships for this and other Yuba Sutter Arts events are available. Call the office, 742-ARTS (2787), or send a note to email@yubasutterarts.org for more information. Thanks in advance for your support of art and culture in Yuba-Sutter.