Broken Compass Bluegrass Concert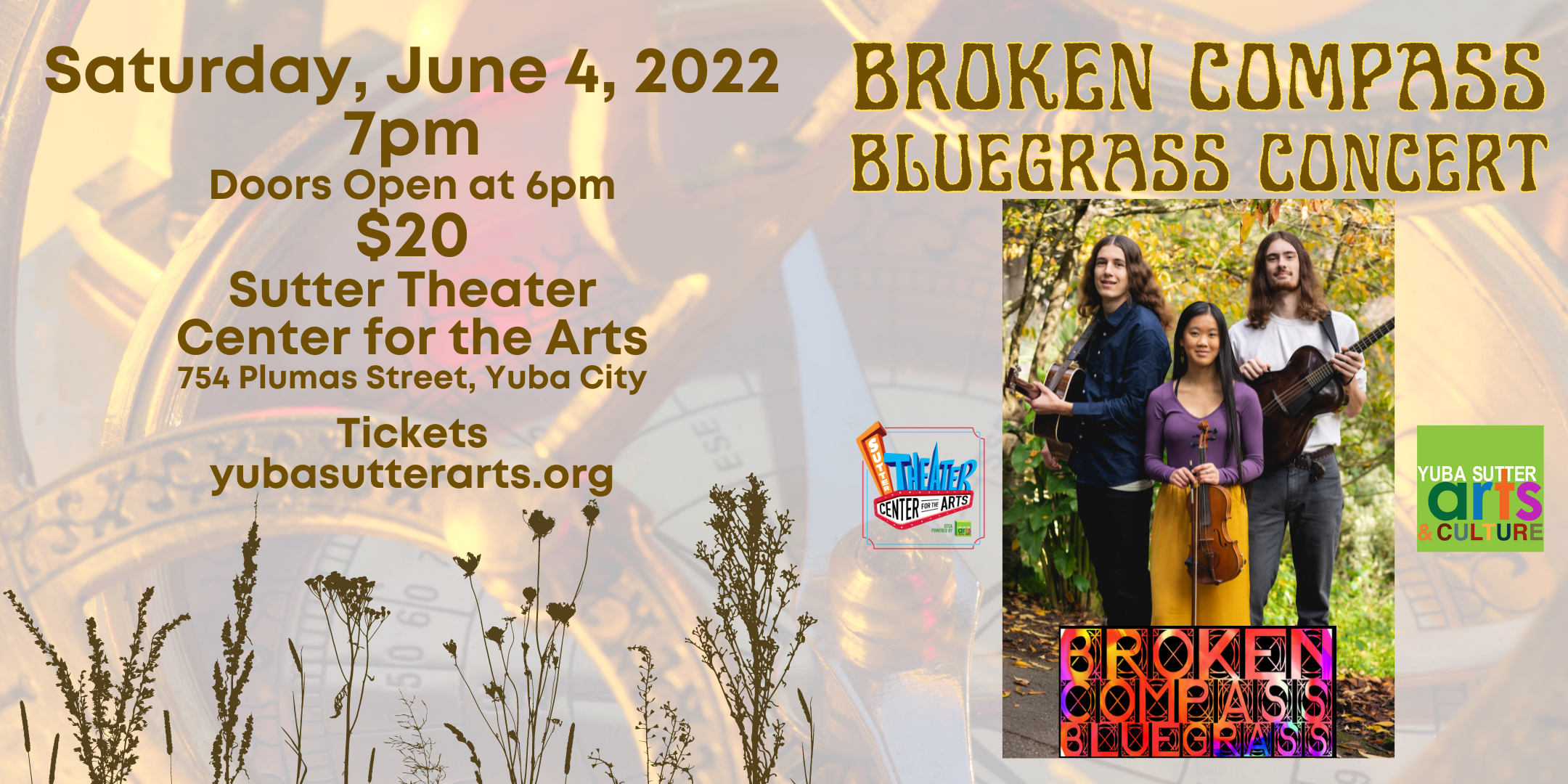 At the Sutter Theater Center for the Arts
What do you think of when you think about bluegrass music? If you are of a certain age, you might remember the tune "Foggy Mountain Breakdown" played by Flatt & Scruggs in the iconic film Bonnie and Clyde. Or how about "Dueling Banjos" from Deliverance? Maybe you know some of the current young practitioners of the genre like Molly Tuttle and Billy Strings. If you are ready to have your knowledge and enjoyment of the genre greatly expanded or if you just want to put your toe in the water of this uniquely American musical form, plan to attend the upcoming concert by Broken Compass at the beautiful Sutter Theater Center for the Arts on June 4 at 7pm. Tickets are $20 at yubasutterarts.org. Doors open at 6pm.
This dynamic young bluegrass quartet was formed during COVID. What inspires a group of young musicians in northern California to form a bluegrass band? Band member Kyle Ledson says it is in his DNA having grown up in a musical family that loved bluegrass. The group also includes Django Ruckrich, Mei Lin Heirendt and, most recently, Sam Jacobs. Classically trained musicians, these young people are comfortable performing a wide range of musical styles. Their concerts include a mix of jamgrass, bluegrass, country, and Grateful Dead material along with numerous original compositions. They are all multi-instrumentalists playing guitar, mandolin, slide guitar, fiddle and bass and they all join in on vocals.
Bluegrass music is a genre of American roots music that developed in the 1930s and 1940s in the United States Appalachian region. The genre derives its name from the band Bill Monroe and the Blue Grass Boys formed in the late 1930s. Unlike mainstream country music, bluegrass is traditionally played on acoustic stringed instruments. Bluegrass has roots in traditional English, Scottish, and Irish ballads and dance tunes and in traditional African American blues and jazz. Current practitioners of "new" bluegrass include Bela Fleck, Sam Bush and Alison Krauss who had a big hit with her duet album with Robert Plant of Led Zeppelin fame. Talk about a cross over album!
The band members have each recorded solo albums and have played all over northern California. Broken Compass will be heading to Ashland, Oregon later this summer. Come hear them live right here in Yuba City so someday you can say "I heard them play way back when!"