Blue Dream Productions and Yuba Sutter Arts & Culture Present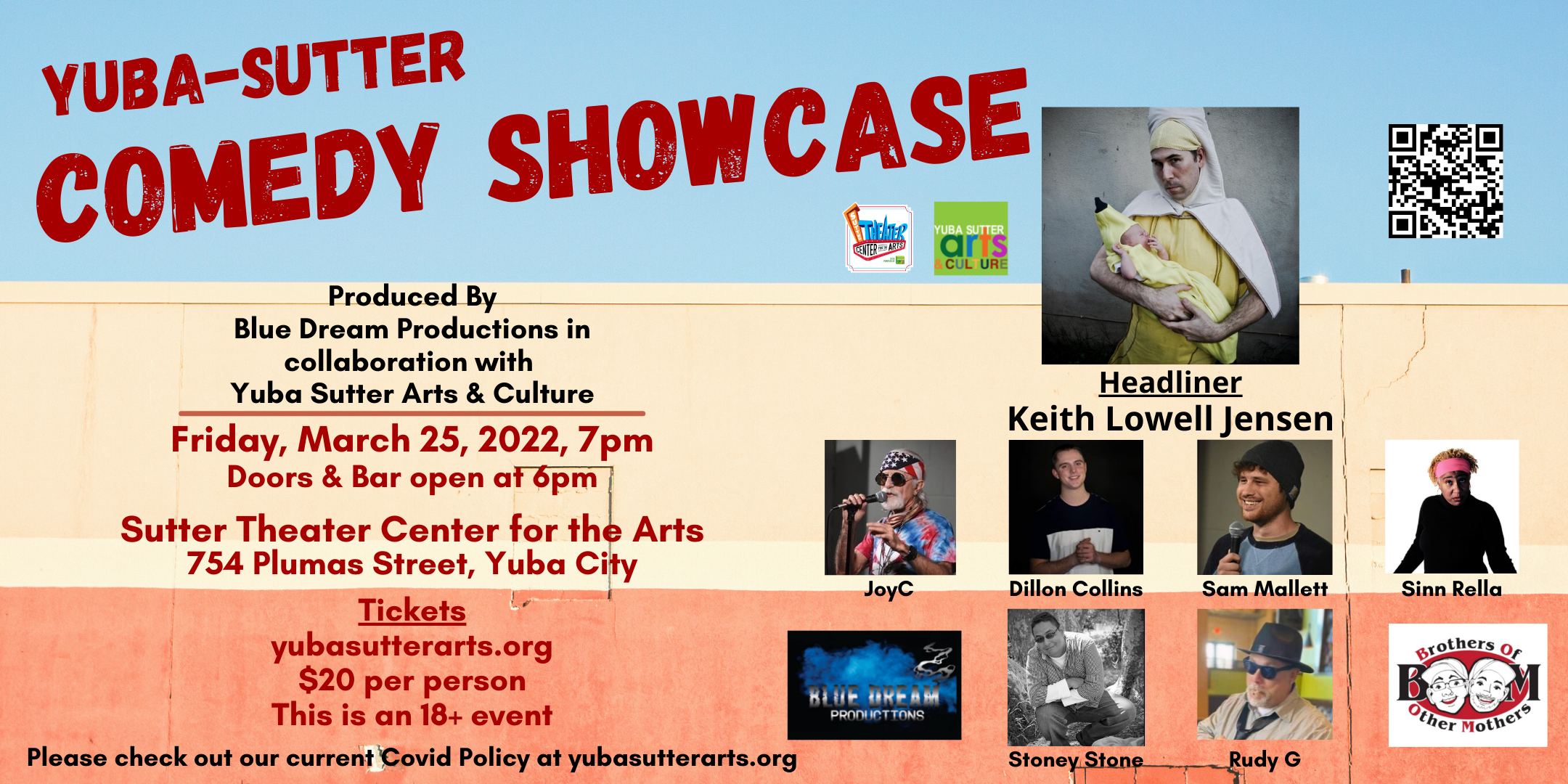 A Really Big Yuba-Sutter Comedy Showcase
Do you remember the comedy show "Tickle Your Funny Bone" at the Burrows Theater on Marysville back in January of 2020? Those were the good old pre-COVID days. The show was a sell out and if you were lucky enough to have gotten a ticket you know it was a fun-filled night of great entertainment.
Comedy shows are here to stay thanks to Stoney Meagher and Blue Dream Productions. Stoney has kept local audiences rolling in the aisles at a variety of local venues, but this will be his first main stage comedy show at the Sutter Theater Center for the Arts in Yuba City.
The show will feature seven different comedians including headliner Keith Lowell Jensen. Rounding out the talent line up are comedians Sinn Rella, Sam Mallett, JayC, Dillon Collins, Rudy G and Stoney Meagher, aka Brothers of Other Mothers.
"Comedy is wide open as far as topics the comedians work with including politics, people, relationships and everyday situations," said Stoney. "I love to find the right comics with the right material for each venue and give the audience a great experience," he added.
The show at the Sutter Theater will be a step up with some comedians not seen locally, but who are part of the Sacramento to Chico comedy circuit. Often the performances are as therapeutic for the comedians as they are for the audience. The shows can be a real stress reliever for all involved.
Come out and enjoy a top-notch comedy show Friday, March 25th at the Sutter Theater Center for the Arts, 754 Plumas Street in Yuba City. Doors open at 6 and the show starts at 7pm. Tickets are $20, and this is an 18 and over event.
or a negative PCR test result produced within 72 hours of the performance. For more information about Yuba Sutter Arts & Culture programs and events, contact the office at 530-742-ARTS or email david@yubasutterarts.org.