Arts Educator of the Year | Joe Lloyd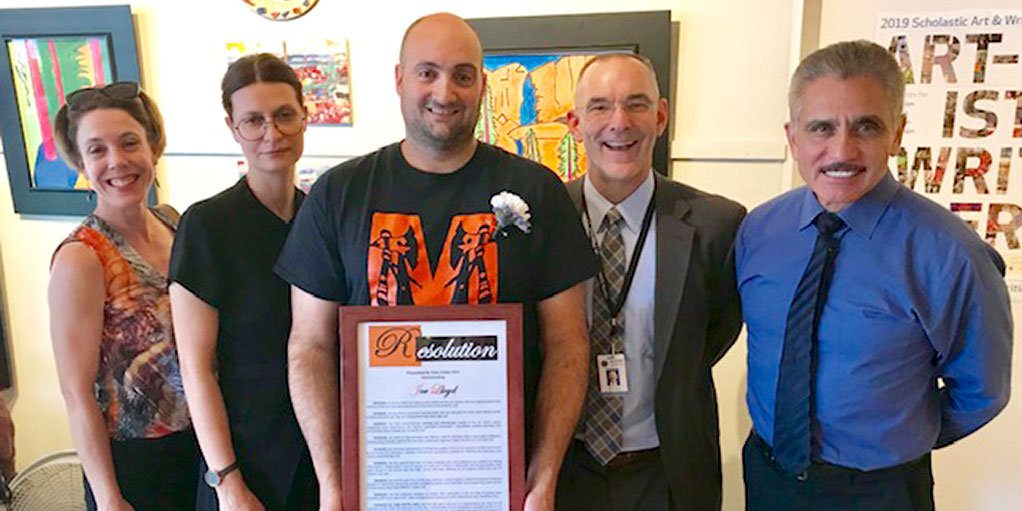 During the recent Art Educators' Faculty Show opening reception, Yuba Sutter Arts announced the winner of its annual Arts Educator of the Year award. Each year, a local art teacher is chosen by a committee of YSA staff and board members. The recipient demonstrates artistic and teaching excellence in the classroom, expands the artistic awareness and skills of students and provides opportunities outside of the classroom to enable students to put their newfound skills into practice.
This year's Arts Educator of the Year Yuba-Sutter is Joe Lloyd, Marysville High School art instructor.
Joe was commended for having "opened the eyes" of many of his students by getting them involved with non-traditional art projects in collaboration with Yuba Sutter Arts. He had them paint a "street piano" now available for the public to play at a store on D Street in Marysville. His students were also invited to help paint murals in the tunnel near Marysville High School and they created works of art about the evils of tobacco use for a project funded by ETR. Joe's students will also be able to visit the Crocker Art Museum in Sacramento on a field trip funded by a collaborative grant with Yuba Sutter Arts.
Joe and Tina moved to Marysville about two years ago from the "big city" (Long Beach) and ever since have been making an impact on the local arts scene both as educators and working artists. They have opened a new art gallery called Painting and Sculpture Outpostin Marysville where they exhibit outstanding works of art and offer classes teaching a wide variety of techniques using many different media.
Joe has an MFA from Claremont Graduate University and has experimented with many styles and techniques in his personal work. Joe tried landscape painting and photography earlier in his art career before integrating those experiences into "abstract geometric landscapes"—beautifully complex paintings that immediately draw a viewer into his world. He revels in discontinuities and fissures and his paintings have a thoroughly delightful, freewheeling character open to the idea that a systematic approach might not add up in the end. Joe has been successfully enriching the quality of life for his students and the community by furnishing arts education, advocacy and services and being a catalyst for effective arts education and creative placemaking. Joe has prepared students to further their education in the art field by giving them excellent skills and a love of art – both making art and looking at it with enthusiasm.